Arm for an Arm
About a month ago, 19-year-old Nikolas Cruz opened fire on teachers and students at Stoneman Douglas High in Parkland, Florida, killing 17 people as well as wounding an equivalent amount, making it one of the deadliest school shootings in recent history.
In the wake of the mass devastation that followed the tragic event, students have been standing up against Congress, demanding that they act to prevent future events like this from occurring. One solution proposed by President Donald Trump is to give the teachers access to firearms to protect themselves, and most importantly, their students' safety. This is a viable option to prevent further school shootings from occuring because it gives teachers the ability to protect their students.
"If you had a teacher who was adept with the firearm, they could end the attack very quickly," Trump said in a press conference on Feb. 21. "Schools could arm up to 20% of their teachers to stop maniacs who may try and attack them."
If teachers are trained properly to use a gun, then it could be extremely beneficial to the safety of the school. Such as  It would be an additional help to deter shooters from schools if they know that the teachers have access to protective weapons. Giving the teachers the right to possess these weapons on school property may also make shooters more vigilant and less likely to attack schools if they knew that teachers were armed.
According to CNN, if teachers want to be able to carry guns on campus they must "undergo at least 80 hours of use of force, weapons proficiency, legal aspects and first aid classes. They also have to be approved by the school board and a law enforcement agency."
Some people believe that giving school faculty access to weapons may lead to more problems, causing teachers to use firearms wrongfully and leading to more instability in our school systems however, as evidenced by CNN, the intensive training and selection process that the teachers must undergo to carry a firearm on campus will prevent any event of this sort from occuring.
Superintendent John Scheu oversees Sidney City Schools, a district where designated staff members have access to firearms.
"We can't stop an active shooter, but we can minimize the carnage," Scheu said in an interview with the New York Times.
If teachers can be armed safely with proper training and knowledge, then teachers carrying weapons on campus will save the lives of many students in the future.
Leave a Comment
Your donation will support the student journalists of Portola High School. Your contribution will allow us to purchase equipment and cover our annual website hosting costs.
About the Writer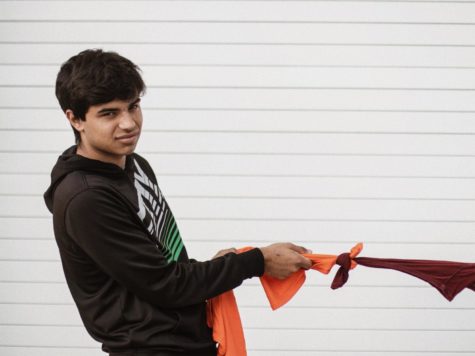 Dylan Vanek, Co-News Editor
Dylan Vanek is the Pilot's Co-News Editor for the 2018-2019 school year. He served as the Opinion Editor and Front & Back Page in his two previous...