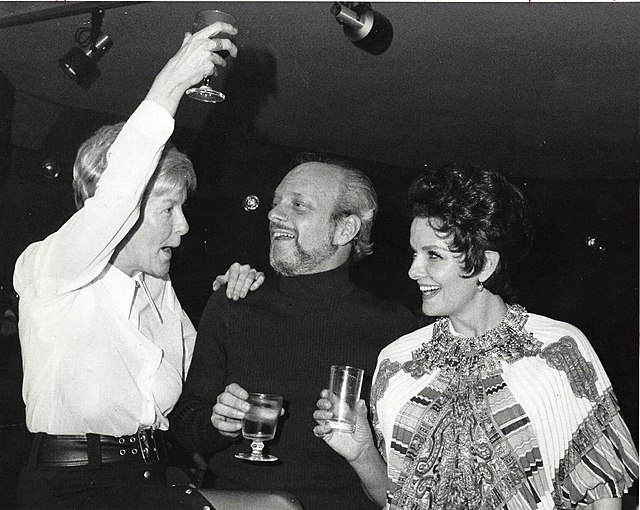 Courtesy of Wikimedia Commons
"West Side Story." "Into the Woods." "Merrily We Roll Along."
While their stories are vastly different, these Broadway musicals have one thing in common—they were all shaped by legendary Broadway composer Stephen Sondheim, who died on Nov. 26 at the age of 91.
Though Sondheim released the final musical of his career, "Bounce," in 2003, his work has left an indelible mark on students in Portola's High's choir and theater programs.
Sondheim's works have been performed globally, allowing them to step out of the exclusive world of high-budget Broadway productions and into the lives of aspiring actors and vocalists. According to vocal music teacher Adrian Rangel-Sanchez, a high school production of one of Sondheim's most famous works first introduced him to the world of musicals.
"The first real musical I ever did was 'Into the Woods,'" Rangel-Sanchez said. "At the time, I didn't know much about musical theater. I was a freshman in high school, but right away I was captivated by the show and thought that the music was really fun, and the plot was really interesting, and I liked how it was a really dark sort of show. Since then, I've come to appreciate him in a much deeper way."
Sondheim brought characters from the iconic folk story "Little Red Riding Hood" to the murderous demon barber Sweeney Todd into a new light onstage. In writing the musical scores and lyrics for dozens of works, he transformed characters' conflicted emotions and internal idiosyncrasies into words.
"Stephen Sondheim was always about honesty," Rangel-Sanchez said. "He tries to write not only musically, but also very poetically in a way that expresses a real human being. Even with 'Into the Woods,' all the characters are real people. They are not supposed to be fairytale people; they're all real people with real character flaws and all the psychological things that real characters go through."
Sondheim's close inspection into what makes a character human has inspired many subsequent musicals. According to musical performer and senior Liam Fricker, the central themes of Sondheim's musicals — about finding community and being authentic — have been featured in "The Addams Family", which was performed on campus in 2019, and "Honk!", which is scheduled for January 2022.
"[One] theme from Stephen Sondheim's work is about finding a place where you belong," Fricker said. "In 'Honk!' the musical, that's really the journey that the main character takes because, while he's lost, he's going place to place, trying to find a place where he can be accepted."
Rangel-Sanchez said he was hosting Thanksgiving with his family when he happened to look at his phone for a moment, only to see that Sondheim's death was all over social media.
"I was sad, obviously, but I wasn't necessarily devastated because I do know that he will live on forever through his music and through his works," Rangel-Sanchez said. "He left so much for us to continue to appreciate him."
In musical performances, audiences often call for an encore to request a repetition of a piece. Stephen Sondheim's life song, one of making authentic choices and pursuing one's aspirations, will be echoed at Portola High for years to come.