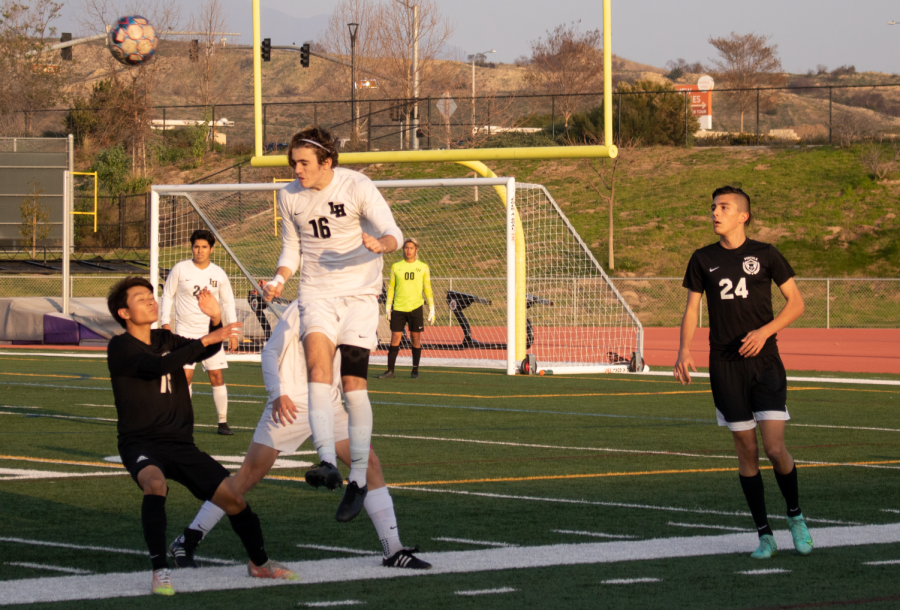 Cara Chan
Boys' soccer (6-7-3) lost 0-1 against Laguna Hills High on Jan. 19 in the stadium. The match was its seventh league game, making the team fifth in the Pacific Coast League overall. Their next game is scheduled to take place on Feb. 2 against Northwood High at 3:30 p.m. at Northwood High.
The first half of the game opened with a kickoff from the Hawks, with both teams looking to maintain possession in the midfield in order to make offensive pushes early on. As the game progressed, the Bulldogs anticipated long shots and throws from the Hawks, aiming to have a high defensive line.
During halftime, head boys' soccer coach Benjamin Jordon emphasized the importance of focus and playing how they had practiced. This included short, quick passes and using their midfielders throughout the game.
"Despite losing, we were really on the front foot. We were trying to get a goal. We were super aggressive," Jordon said. "Overall, dominance in the game and the possession of the ball was just something that we worked really hard throughout the season to try to establish."
The Bulldogs held possession of the ball for a majority of the second half with midfielder and junior Yasser Mallisho and midfielders and sophomores Ethan Yang and Aaron Sato pushing the ball up offensively.
Although the Bulldogs attempted to switch the field, they faced obstacles in maneuvering the ball past the keeper and into the net.
With only two minutes left in the game, the Bulldogs' defense made an unfortunate error, allowing the Hawks to break through and score, ending the game 0-1.
"We didn't really see it as a loss," left-forward and senior Parsa Goshtasbi said. "We just gotta not give up… if we let that game reflect on us, then we won't really go anywhere."
Though the game was an unfortunate loss, boys' soccer continues to train diligently. The goal is to make CIF for the first time in Portola High history, according to Jordon.
"I think it's important to just keep a positive attitude and just talk with your teammates and tell each other 'you got this,'" midfielder and junior Shaya Sharifi said. "The best thing we can do is just to stay focused and to make sure we spend all our time wisely, so we can prepare for the game."