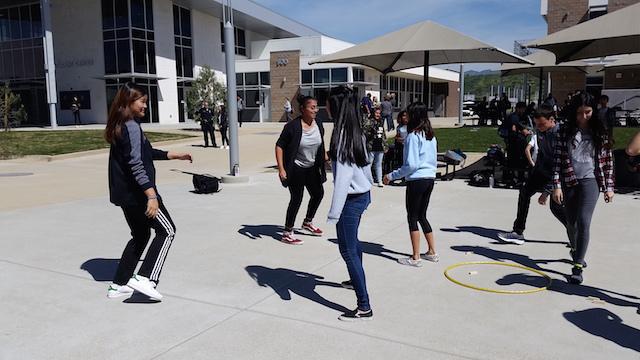 Maya Sabbaghian
ASB held the first ever intercultural week from March 6-10 by setting up various activities from countries around the world during lunch each day
"This week's purpose was to acknowledge all cultures and spread awareness of them," intercultural liaison Nandini Goyal said. "Just to appreciate the diversity we have at the school and be proud of it."
Students participated in different cultural events each day. China was celebrated by playing hacky sack on the first day of the event. On Tuesday, Jordan was celebrated by playing Seven Stones.
On Wednesday, there was an interfaith seminar in ASB adviser Sarah Dean's classroom where the first 50 people who entered received free pizza. Students played dodgeball on Thursday, and on Friday the Indian club held an event doing henna in order to celebrate Indian culture.
"I know that there is a very diverse community here, but my concern is that we are just scratching the surface, and that if we don't integrate it, and if we aren't curious about it, it stays as something that isn't so important," interfaith seminar speaker Uyen Nguyen said. "If there's a way to come together so that even if we are different, we can still see each other as a school, as a class, and as a community."
As the week progressed, more students joined the events. On Friday, when India was being celebrated by doing henna, 15 students participated in the event, which was more than many of the other events held previously during the week.
"It was very exciting and humbling to see the representation of different cultures and ethnicities at school. I loved how many people gathered together to get henna done," freshman Maya Sabbaghian said. "I really enjoyed the henna event because I got the chance to delve into an important tradition of the Indian culture."