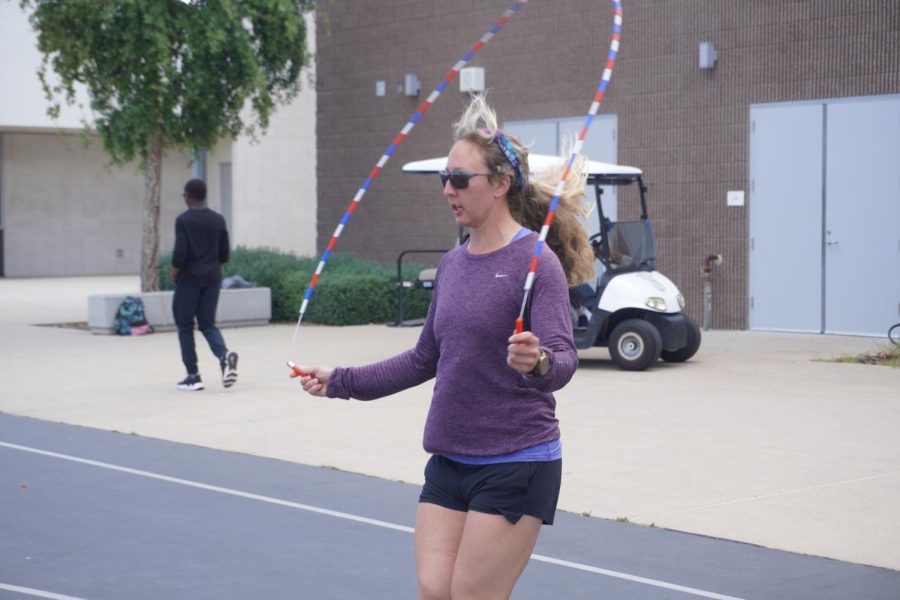 Nate Taylor
The human body is capable of many things: lifting over 6,000 pounds, jumping over eight feet and running 27.5 miles per hour. One person on campus harnesses these capabilities to compete in a special type of marathon: Spartan Races. This unique type of race features obstacles including mud crawls, spear throws and tire flips.
Participating in varsity cross country, track and field and soccer in high school, physical education and health teacher Brittany Frymire has always been an athletic-minded individual. So when an unfortunate accident in high school affected her physical health, life took an unexpected turn. 
"It wasn't really until I broke my leg in my junior year of high school that I realized how important exercise was for me, for my mental state, just for who I was," Frymire said. "Going through the rehab process of learning how to walk again and just appreciating what we are able to do with our human body really kick-started my passion for working out."
Her journey through recovery progressed into a college soccer scholarship, weightlifting, running marathons and, finally, Spartan Races. Frymire qualified for the Spartan North American Championship in Lake Tahoe in September 2021 but was unable to attend due to COVID-19 safety protocols and scheduling conflicts, according to Frymire. 
Spartan races are a test of one's strength and endurance, and it can be difficult to stay motivated.
"You start to think to yourself, oh my gosh, am I really doing this right now? I should have been just sleeping or I have this assignment or work to do, and all of these reasons come in your mind," Frymire said. "It's hard, but finding a community that will work out with you is always helpful, because on the days where you're like, I just don't want to do it, you have someone that you can text or email or just say, 'Hey, you want to work out together?' It really helps motivate you to stay on your training regimen."
One person who has helped to uplift Frymire throughout her athletic journey is a fellow marathon runner who happens to be a part of the Portola High community as well.
"On days where [Frymire] doesn't want to do it, she texts me, 'Hey, did you run today?' 'Yep, I already ran today.' 'Okay, I'll run,'" activities clerk Alyssa Levensailor said. "We kind of pick each other up."
As Frymire's bubbly personality radiates through the room, it is easy to tell how passionate she is for her sport. But Frymire's overt enthusiasm is not just visible in her rigorous training schedule — it also translates to her teaching.
During her coaching and teaching sessions, Frymire helps her students set and achieve personal fitness goals so they too can experience a similar sense of accomplishment, according to Frymire.
"My favorite part is seeing all of your training come to light. You feel that accomplishment because you can train and train and train, but, and I always tell people this, when you don't have a goal, you kind of get in this rut," Frymire said. "So, when I set a date for a Spartan Race or anything, I know that my training is going to help me peak at just the right moment. That performance, and just being around other people in that community of the races, that's just the highlight of my whole training."