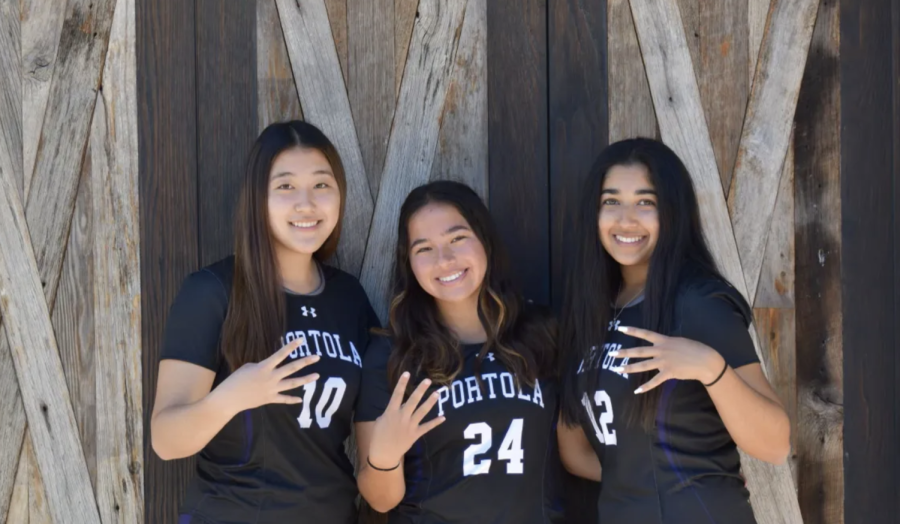 Courtesy of Aafiyah Chohan
As seniors Celine Aoki, Aafiyah Chohan and Chloe Choi enter their fourth and final season of lacrosse, we asked them four questions to learn about how their lacrosse journey all started, what it was like, the highs, the lessons they learned and what final advice they can impart. 
Q: Why did you join girls' lacrosse?
Aoki: "I started playing lacrosse in sixth grade, but then I stopped for a while. I started playing at a more competitive level in freshman year."
Chohan: "Actually, it was Chloe who kind of got me into it. She was like, 'Hey Aafiyah, I'm going to try out for lacrosse. You should come try out.' I was like, 'Okay.' And so I tried out, and I ended up really liking it."
Choi: "When I was younger, I never actually played a sport, so I was first scared to try out. Once I got onto the team, I realized that it's something really fun, and I met a lot of new people through it. I found out that it was a sport I was interested in. It's a sport that not a lot of people knew at the time, so I was excited to try it out."
Q: What is an accomplishment that you are most proud of, whether it be an individual or team effort, from being on girls' lacrosse?
Aoki: "In my freshman year, we weren't the best team. We weren't the most well-developed, and it was my first time playing, but it was a pretty easy switch from soccer. We got beat 22-1 against Uni [University High] who ended up winning league that year, and I scored the one goal, and it was the first goal of Portola girls' varsity lacrosse."
Chohan: "The first one was when we won our first ever league game against Northwood. This was our first ever league win as a girls' lacrosse program and to have it be against Northwood, that was a really, really big deal and a really big confidence booster for all of us. The second one would probably be making CIF. It was a pretty big deal in our third year of varsity lacrosse, actually making CIF and then going all the way to the semifinals. That was a really, really big deal for us, and that was probably one of the biggest accomplishments for the team."
Choi: "Team related, I think getting to CIF and that semifinal game. I think that was one of the most memorable moments since we did come from a program that wasn't really strong at the beginning. Getting to semifinals was probably one of the biggest things our team was most proud of and something that we will all remember for the rest of our lives."
Q: What is the greatest lesson you've learned from lacrosse?
Aoki: "Every game could be your last and, you know, building yourself up after an injury or after competing is a lot, but just take it easy on yourself and take it game by game. Don't think so far ahead into the future and cherish the time you have with your teammates."
Chohan: "One of the biggest things lacrosse has taught me is communication. I played defense freshman, sophomore and junior year, and so communication is a really, really big thing. So you want to be talking to your teammates a lot… Being friends with your teammates is a really big, underrated thing to help develop skills and communication. Obviously that'll help me off the field too."
Choi: "Although the wins are really great and the losses can be tough at times, it's more about self improvement. It's something so special that even the wins and losses can't change how much you improve yourself." 
Q: What advice would you give to rookie lacrosse players at Portola High?
Aoki: "Consistency is key. Lacrosse is an easy sport in the sense that you're able to do a lot of drills at home, working with the wall and helping yourself even if you don't have other people around. So I would say to just try and get out there and work on like your stick work and keep your head up because it's a hard learning curve, but once you start really getting the rhythm of it, it becomes a really fun game."
Chohan: "Touch your lacrosse stick every single day. If you touch it every day, you will get better. Let's say you play on a Friday, and you don't practice at all until the following Friday. It's going to show. You need to be doing practice and work outside of school." 
Choi: "Lacrosse is not a common sport, I feel like for younger people, especially. So a lot of people who joined lacrosse as a freshman are very new to it, and they feel uneasy about it or feel uncomfortable trying it out. But I just always say that no matter how difficult it gets or how uncomfortable it gets, if you just put in the work and you just continue to persevere through it, it'll pay off in the end, and you'll feel more accomplished."