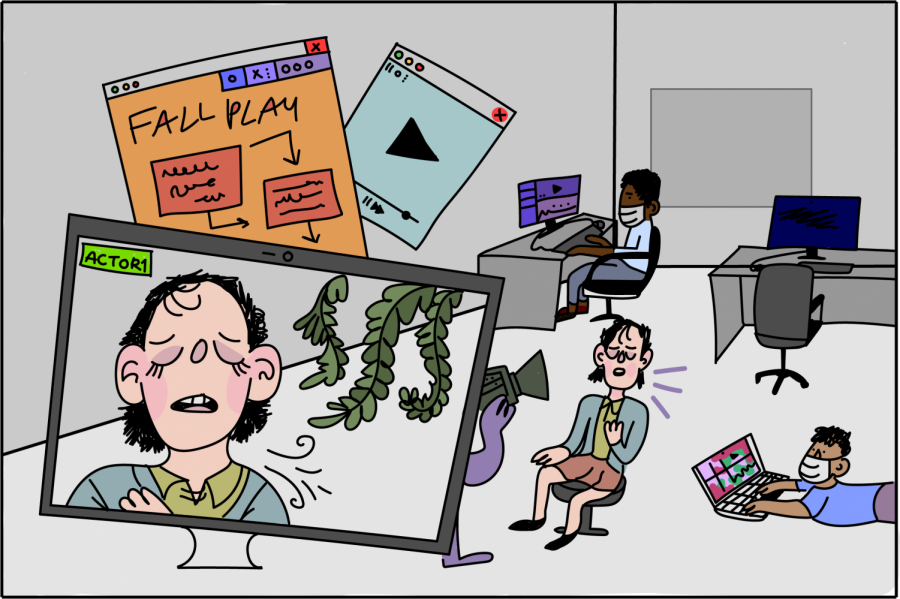 Nate Taylor
Under more typical circumstances, members of both the technical theater and advanced technical theater courses would be fully occupied with the fall play production. 
Creating play sets, designing actors' costumes and adjusting stage technology are all tasks advanced technical theater students would contribute to during play season. But this year, students will assist the production in other ways, such as through creating virtual backdrops, editing, and assisting with streaming, according to performing arts teacher Samantha Sanford. 
"I'm learning so much more, in the last six months, theater has changed. The entire landscape of the art form has changed to adapt to this pandemic," Sanford said. "The biggest concern I've heard specifically from freshmen or people new to the theater program is they signed up for a class that they thought was going to be hands-on . . . They are disappointed, but they are not upset about it. They are not throwing a tantrum. They are grounded in understanding why those changes had to be made."
Since technical theater—the prerequisite course to advanced technical theater—focuses on introducing students to the theoretical basics and terminology of the production, most assignments remain unchanged from previous years. However, unlike prior productions, they will not be able to take on traditional apprenticeship roles such as assisting set building.
While specifics are still undetermined, advanced technical theater students received their roles on Sept. 25. for the virtual fall play. 
"As we have just recently introduced the idea of a virtual play, it is still up in the air," advanced technical theater member and senior Tanisha Naik said. "I think it will definitely be interesting and a learning curve . . . it will be a journey to get performances online and in a way that's social distance friendly."
Despite unfamiliar situations, there are benefits to moving the play online, as the play can be accessed by family members living out of state, and actors can practice in front of a camera, according to Sanford.
"We are so fortunate to have the state of the art theater, but it's nice to kind of go back to the basics and have nothing and find that joy in creation and problem solving," Sanford said. "We are creating in mid-air; we are building the plane as we are flying it. So, there will be lots of problem solving and team work and trial and error . . . But I am very confident that we will make it happen by working together."