The Irvine City Council adopted a new city map featuring six voting districts on Oct. 10 in advance of a March 5 special municipal election to approve district elections. 
The final map selected by the city council splits the city into six voting districts with one of five Irvine Unified high schools in each district except for the sixth which contains UC Irvine, according to Councilmember Larry Agran. Individual neighborhoods — such as Portola Springs or Beacon Park — are generally contained within the same voting district, according to the OC Register.
"I think map 151 has emerged here as a consensus map," Agran said. "Yeah it looks great, but operationally I think it is great."
The chosen map passed by a narrow 3-2 vote with dissenting Councilmembers Tammy Kim and Kathleen Treseder citing concerns about the new boundaries packing Asian voters into districts one and two, according to the OC Register.
Packing is a gerrymandering technique where minority voters are "packed" into a few districts rather than being evenly spread so that they have fewer opportunities to influence elections, according to Passion Civics teacher Marisa Wilkerson.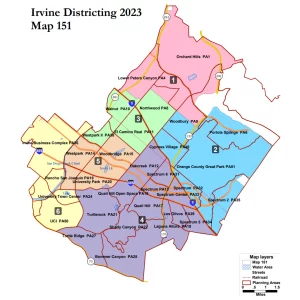 The move towards district elections follows a 2021 lawsuit alleging that the City of Irvine's current voting system disenfranchises voters and candidates along racial lines, according to Voice of OC. The City of Irvine utilizes an at-large voting system where Irvine constituents vote on a slate of all available city council seats, according to the City of Irvine's official website.
"The argument for this is that by moving into districts you are better representing the people, especially the minorities, that live in that community because they'll have a bigger say in who is representing them and those hyper local issues that they may have," Wilkerson said. "For example, if you live in Irvine, maybe if you live in the Great Park neighborhood you have different concerns than people who live in Northwood. So, by electing by district you'll then have these officials who are more aware of your specific neighborhoods and the concerns that those neighborhoods have."
Irvine's population of 313,000 means that it is the largest city in Orange County that does not use district elections, according to Voice of OC.
Younger voters planning on participating in the next election cycle believe moving to district elections is a positive change for the city and its communities, according to pre-registered voter and senior Moses Chen.
"We have a history of council candidates incumbents that just stay in power without really representing their constituents effectively and this will force candidates to appeal to those that are directly within their community especially as Irvine becomes much more larger and diverse," Chen said. "With this new district system we now have a more direct model of participation."
The map will first need voter approval on March 5 — the same day as the California primary elections — before going into effect as early as Nov. 2024. Constituents may view district boundaries on the interactive review map.