Students Should Be Allowed To Opt Out
Since the announcement of the IUSD school board's unanimous vote to change grading to a credit/no credit system on April 14, there has been a plethora of concerns that come with this sudden change.
This change was vital to create equity among students who may have a disadvantage when it comes to learning remotely.
However, concerns around college application complications arise, as a credit/no credit system would create no further change to a student's GPA. 
High schools from school districts like South Pasedena Unified School District (SPUSD) are offering a solution to this very issue: granting students the option to follow a pass-fall system or a regular letter grade system. 
The biggest worry about this option, is that it punishes students who are in less fortunate situations, because colleges might favor people who are privileged enough to maintain a regular GPA. 
To combat this worry, colleges like Duke University "plans to include a designation on undergraduate students' transcripts 'indicating the extraordinary circumstances encountered in the present semester," according to Forbes. 
"
Students at other schools who were offered many weighted and AP courses in freshman and sophomore year are not as impacted by the pass/fail system [since] their GPA is already high."
Just like Duke, schools in IUSD can clarify students' unique circumstances on their transcripts, to ensure that colleges understand a student's reason for choosing the credit/no credit option.
Especially with the uncertainty of how future college admissions will work, allowing flexibility for students' GPAs will give them the chance to show colleges that they can get good grades while working at home. 
"Students at other schools who were offered many weighted and AP courses in freshman and sophomore year are not as impacted by the pass/fail system [since] their GPA is already high," Junior Pranathi Kollolli said. "However, Portola and other IUSD schools did not offer students many [weighted] courses early in their high school career. This is why students like myself relied on junior year to increase our GPAs in hopes of getting admitted to a top college."
In order to help combat students' anxiety in how the credit/no credit system could affect their chances of college admission, schools should allow students to pick if they want to change their grades to be a pass/no pass or with GPA at the end of the semester.
SPUSD implemented in their policy that allowing an end of the semester deadline for this choice would account for students who might face unexpected troubles or health issues in between now and the end of the school year.
"The Governing Board seeks to support students, including high school seniors on-track to graduate, in preserving the progress they made prior to physical school closures and enabling them to demonstrate further learning in ways that take into account the new independent study distance learning instructional environment," SPUSD's board policy says. 
With classes that are already taken online like health and drivers ed, distance learning might become the basis of school in the foreseeable future. Right now is the best time to show that students can accomplish big things under any conditions. 
Leave a Comment
Your donation will support the student journalists of Portola High School. Your contribution will allow us to purchase equipment and cover our annual website hosting costs.
About the Writer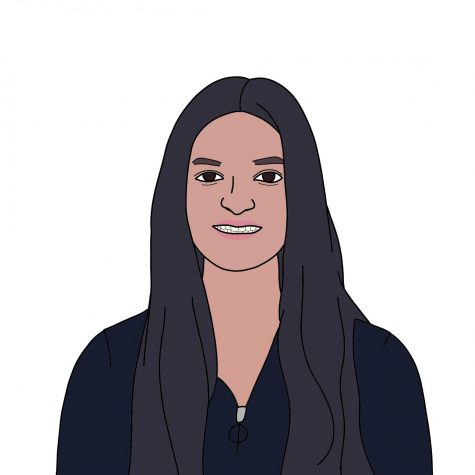 Krisha Konchadi, Front Page Editor
Krisha Konchadi is the front page editor this year on the Portola Pilot. Along with editing and creating the front page, she loves making graphics and...