AP Test Submission Issues Force Thousands to Retake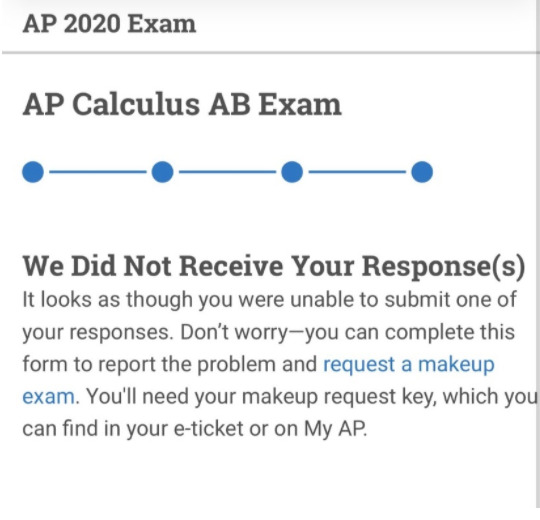 By the end of the first week of online AP (Advanced Placement) exams, at least 10,000 students taking these tests have suffered technical difficulties while submitting, forcing them to retake in June.
"Approx 50K students took today's AP Physics C: Mechanics exam. 98% submitted their responses, while approximately 2% encountered issues" College Board senior vice president  Trevor Packer said in a Twitter post on the first day of AP testing.
The College Board claims on its Twitter that the culprit of copy-text submission difficulties to be outdated browsers, but has not mentioned the other two submission methods. 
"I took AP Physics 1 and for me the "attach response" button just was not registering whatever I did. I tried to switch browsers too, but it just wasn't working" said junior Arman Surmeli. 
In order to abide by stay-at-home orders and the implementation of Emergency Distance Learning, the College Board announced that the AP test would be held online for the first time on March 23 . Students would be able to take a written exam that could be submitted three different ways: copy-paste text into a box on the website, a PDF file upload or an image upload. 
"I submitted the second question for AP Calculus BC as an image file with 1:30 left and right after I submitted it, a message appeared on my screen and it said that I need to request for a makeup because my submission didn't go through," said junior Colin Wong who attends La Salle College Preparatory in Milwaukie, Oregon
Students will be able to retake any tests they had issues with during make up exams in June as long as they submit the required form within 48 hours of their test submission, but students are still wary about the retake process.
"It absolutely sucks, I mean having to prepare yourself then realizing that your work was just trashed and that all the worry and stress was for nothing is infuriating, and I know I'm not alone on this," Surmeli said.