Basketball Coach Brian Smith Honored with Coach of Character Award
Akshay Raj, Assistant Features Editor
October 8, 2019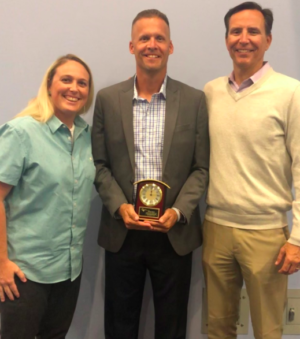 The Orange County Athletic Directors Association honored basketball head coach Brian Smith with the Coach of Character award at their annual Fall Awards Dinner at the Anaheim Convention Center on Sept. 30. The organization gives the award to one coach from each Orange County high school each fall and winter for excelling in the 'Six Pillars of Character:' trustworthiness, responsibility, caring, respect, fairness and citizenship.
"I appreciate being nominated by my fellow staff members," Smith said. "I think there are a lot of great coaches at Portola, so to be recognized by them is a big thing, especially when it comes to character, since we teach character development as much as we can. It's an honor." 
Smith has been the  head boys' basketball coach since its inaugural season and has helped the team reach new heights, including competing in CIF in its first varsity season. With 24 years of experience as a coach, Smith said he knows the importance of prioritizing healthy relationships with his players to help them build character.
"It's good to see kids go from young boys to men when they leave our program… to me that means more than a lot of the wins and losses that coaches go through," Smith said.
Smith's athletes pick up valuable life lessons through practice, whether it be on or off the court.
"It's been a great experience with Coach Smith. He's been a big influence for me as a player and as a person. He's taught me to be loyal, trusting, and he puts a strong emphasis on not taking shortcuts in life. Not only is he a wonderful coach, but he is able to flip that switch from game mode to being a giving person" senior and small forward Justin Tam said.
To Smith, coaching is not just about improving performance in games — growing as a person is just as important as growing as an athlete.
"On the courts, Coach Smith expects the best of us," Tam said. "Off the courts, he expects us to be a better person, giving back to the community and treating people with respect."
Just as much as his players admire and learn from him, Coach Smith is fond of the impact his athletes have had on him.
"[My players] test me a lot and make sure I practice what I preach, and they remind me that I have to be the example a lot of times, but they're also fun to be around and encouraging," Smith said. "We have a good relationship. It's all about developing relationships with the kids and helping them grow into better human beings."
About the Contributor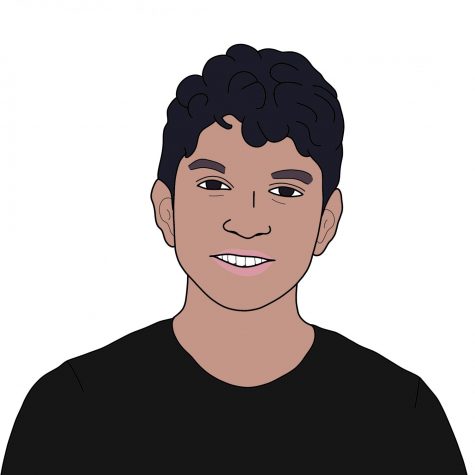 Akshay Raj, Editor-in-Chief


Akshay Raj is your co-editor-in-chief of the Portola Pilot this year. In his final year as Portola Pilot staff, he is beyond excited to help bring...