Celebrating the Start of School with Welcome Back Dance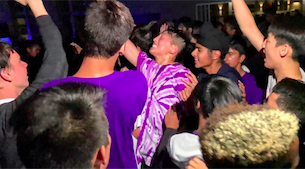 Students decked out in purple gathered in the Student Union for the Welcome Back Dance to celebrate the start of the school year. Lasting from 9 to 11 p.m., the ASB-planned dance drew in groups of students right after the end of a varsity football game across campus. Over 350 sophomores and juniors purchased tickets for the dance, while freshmen were free.
"We're trying something new with freshmen [tickets] free so that they feel welcomed right away into the community, and we are definitely a bigger student body, so that's been fun," ASB co-adviser Emily Sheridan said. "The dual nature of having the football game first and then this [dance] also adds another dimension that I think is fun because you can come here with your friends, hang out at the football game, and then come later to the dance."
The union was lit with colorful strobe lights and blasting with music as students clustered together to dance. Some students also enjoyed the party outside the union, where they helped themselves to cool water and candy and lounged with friends. For freshmen, this event was their first high school dance experience and an opportunity to mingle and mix with older students.
"[The dance] was really fun. It was a lot different than [my friends and I] thought,"  freshman Alexandra Moll said. "It was a lot louder, and a lot more people, better than we expected."
This year, ASB spent more on a DJ and focused on garnering more student spirit in order to grow the dance and make it more enjoyable for students, according to ASB president and junior Jason Chen.
"Last year was our purple-out. We wanted to build on that and create a tradition here for the back to school dance," Chen said. "Coming from last year, our upper grades have gotten a lot more spirited, and that sort of trickled down into the freshmen so that they are getting more spirited earlier than we are, and it just makes the whole community feel a lot better."