Cheer Flies Into Season with New System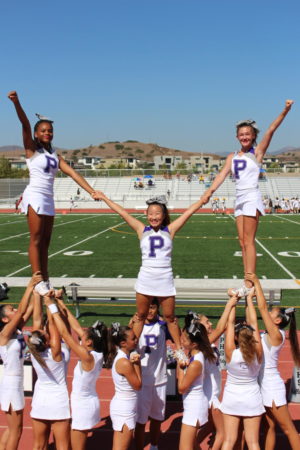 B U L L D O G S! Bulldogs, let's get it! Compared to prior seasons where competition team and pep squad was considered one group, the new system separates the categories, allowing students to choose how involved they want to be with cheer. 
Because pep squad is a year long commitment and practices are extended during competition season, cheer athletes that were participating in multiple sports faced difficulty last year from overlapping practices with cheer and other sports.
"The whole point of [the system] is so that people in other sports get to still participate," cheer coach Allie Leyva said. "Girls that are on the pep squad right now to not have to do the competition team, and kids from other sports [in the fall] can join in and do the competitive team."
While students last year had to distribute their attention to both the competitive and pep squad aspects of cheer, students can now focus on each of the aspect separately.
"I think it is going to help the team because people who may be their strengths lie in different areas can still be part of the team and participate do cheer which is a really fun experience for everyone," JV member and sophomore Aleena Vogel said. 
Because the amount of commitment cheer comes with can be overwhelming, students can be benefited by having the ability to choose what aspects of cheer they want to participate in.
"[The system] is also good for people who just want to cheer at games but don't want the stress of competing," varsity cheer member and sophomore Mukta Sarwate said.
Along with the new system aiming towards all-inclusion, cheer challenges themselves to participate in seven competitions this year, which is four more than last year.
"Instead of having three [competitions] we are having seven. So it's gonna be a little more jam packed but more worth the time and effort they put into the routine," Leyva said.