Coach Rodney Anzai is First Japanese U.S. Air Force Colonel in History
Anzai's multiple medals and promotions are testaments to his focus and gratitude for his family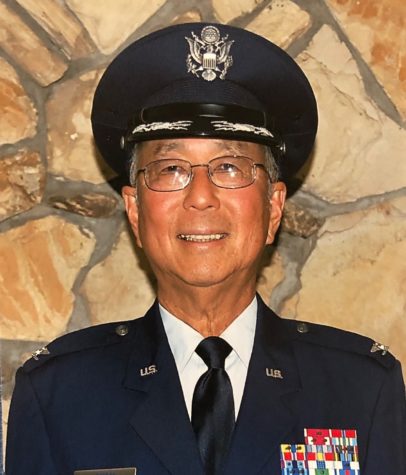 Assistant cross country coach Rodney Anzai made significant history as the first Japanese-American to attain the rank of colonel in the Air Force Medical Service Corps in 1981. 
Inducted into the army in 1964, Anzai worked up the ranks from lieutenant to colonel over his 30 years of service as a hospital administrator. 
Letting out a hearty laugh, Anzai recalls warmly the day he was promoted. 
"[My friend] called me on the phone and said, 'Hey, samurai.' He called me samurai…He said, 'Well buddy, you are on the list. You have made O-6 full colonel,'" Anzai said. "I didn't say anything to my family. I had one of these name tags that you put in front of your desk, and there's this part you put your rank on, and at this time, I had only lieutenant colonel, which is a silver oak leaf cluster. I went home. I got an eagle, put it on there, and just put it on the table and didn't say anything, and my son and my wife said, 'Hey, what happened?' I said I got promoted, so that was a very significant moment for me." 
Rather than viewing his ethnicity as an obstacle, Anzai embraced both his Japanese and Korean heritage, striving to set an example that hard work pays off regardless of race. 
"I would say that first of all keep in mind where you came from, your country," Anzai said. "Don't ever forget your deep roots and set your goals early. My philosophy is 'aim high soaring, aim low boring.'"
Anzai has received over ten military awards, among them the Bronze Star Award and two Legion of Merit Medals, both in praise of his hard work in peace and wartime. Though the medals speak highly of his character, Anzai considers an assignment given from his commander as the greatest reward for his responsibility. 
"I was given the opportunity as a non-physician to command one of the biggest Air Force ambulatory clinics in the world, which was the U.S. Clinic Norton in San Bernardino," Anzai said. "I had over 200 people under me as the commander. Now, traditionally the commander is a physician, but I worked for a general who eventually went up to headquarters, and he gave me the opportunity as an administrative officer to command the largest Air Force operation clinic. To me, that was great."
Though the military was a rewarding experience, Anzai and his family did experience many difficulties. As a military family, they were relocated multiple times from Sinus Valley, Ohio to Germany to various California bases throughout the Cold War.
"
[My friend] called me on the phone and said, 'Hey, samurai.' He called me samurai…He said, 'Well buddy, you are on the list. You have made O-6 full colonel."
— Rodney Anzai
"I was able to get an assignment [in South East Asia]," Anzai said. "I relocated my family back to Hawaii. [His wife] stayed with her parents, and I went to Thailand for one year by myself. They had to rough it for one year without me, and I had to be there by myself without the support."
Anzai credits his family and his faith in God for getting him through hardship. He has been married to his wife Eleanor Anzai for over 50 years. 
"The success of a good man, especially if he is married, is you have to have a good supporting and understanding wife to get you through all this turmoil," Rodney Anzai said. 
Anzai reminds students that historymakers are not held back by adversity. Instead, they push through and rewrite humanity's story.