Girls' Tennis Stuns Competition to Maintain Winning Streak
The OC Register released an article on Sept. 12 stating top ten teams to look out for and Portola's girls' tennis team made the list. The girls' have been wracking up accomplishments including a number one CIF Division 3 ranking and a 7-1 winning streak as of Sept. 20.
"In my four years of teaching high school I never thought that would be a possibility: to be interviewed for the two star freshmen but also as a team in general…in our second year of varsity," head coach Natasha Schottland said. "I think that gave us a lot of notoriety around campus, gave us a lot of good publicity, gave the two freshmen good publicity as well."
This year with the addition of two standout freshmen, Isabella Chhiv and Anne Yang, the girls' tennis team has exploded to the next level. Each specializes in their own styles. 
Yang, standing at 6'1", has a strong baseline game, consistent in her
shots and strategy. Chhiv is more aggressive in her playing style, taking balls early with confidence. 
In a match with La Quinta High on Sept. 17, each had a strong performance: Chhiv did not drop a single game throughout the match and Yang finished her match with La Quinta High's number two singles in under 20 minutes, an unprecedented time for one set. 
"Since we have seniors this year, I really want our team to have a really good experience playing regardless of whether we win or lose," junior captain Saachi Pavani said. "I would really like us to
qualify for CIF because that would be a really good experience for the team and motivate us to do better next year."
In addition to the team qualifying for CIF highschool playoffs, Schottland explained that she hopes for the pair to eventually proceed to CIF individual playoffs at the end of the year. In addition to the shoutout from the OC Register, Chhiv was also recognized as Athlete of the Week on Sept. 16.
"I was really surprised actually just because it's barely been three weeks here at Portola, and we're already kind of being noticed. I was really shocked at first," Chhiv said. "It's really cool being able to see my name and Anne's name on the paper."
With the rest of the season in their sights, the girls' are more motivated than ever. Schottland explained that the shoutout they received in the article did more than just give them publicity.
"The idea that we're number one in D3 [has] given us goals to work towards and maintain throughout the season, and I think that's really important for a program to have, to have goals and expectations that are set not just by the coach or the players, but also by the media," Schottland said. "It's good to have those kind of expectations in terms of media because that ultimately drives the players to want to play their best."
About the Contributor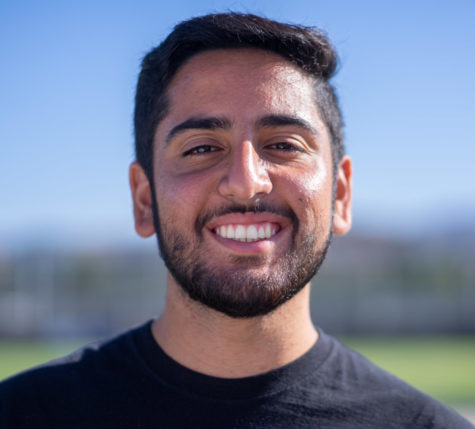 Shawyan Rooein, Centerspread Editor
Shawyan Rooein is your Centerspread editor of the Portola Pilot for the 2019-2020 school year! This is his third year on the Portola Pilot team and he...