The Outdoor Event
November 26, 2019
Floodlights and fairy lights illuminated the crowd of students at this year's outdoor portion of Irvine Talks on Nov. 23 from 5:30 p.m-7:30 p.m. It featured a variety of new activities such as a "Just Dance" battle tent, photo booth and collaborative friendship bracelet station. One of its most memorable attractions was the art walls, which featured dozens of art pieces from all six Irvine high schools.
To add to the lively atmosphere of the outdoor gala, University High's student-created jazz band, Monks of Funk, entertained audience members as they enjoyed food from the two food trucks present.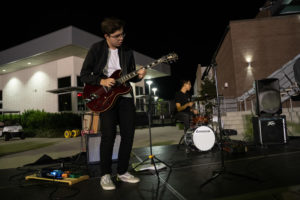 Two a capella groups, both from University High, also performed.
"The outdoor event, with various activities, allowed for people to interact with each other and appreciate the human connection [with one another]," senior Stephanie Zhang said.
Senior Ajinkya Rane and junior Esther Moon worked with fellow Irvine Talks board members Joy Chen (University High), Sydney Field (University High), Nikki Ghaemi (University High), Anshay Saboo (University High) and Hannah Woo (University High) to plan the event and audition speakers as early as May. They were responsible for building and painting the four wooden cubes and six murals that illustrated the purpose and theme of the event. Limited edition T-shirts from the past three years were sold, filling the event grounds with a sea of olive greens and maroons with each person there for Irvine Talks.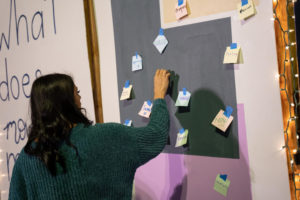 "We all have our own football games, spirit nights, spirit weeks, and these are all separate highschool events and we all do things so differently. If you talk to other people, you see how different everything is," Saboo said. "This is one of the few events that is just for high school students, just for kids here in Irvine. You have other Orange County, Irvine events but this is for the high school students, by high school students. That's kind of what's special about this. That's why I feel so attached to this."