Love for Volleyball Leads Alumna Back to Coach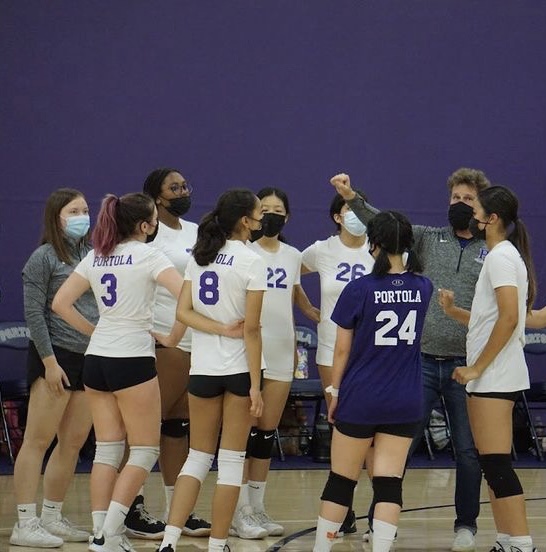 With set focus and sheer devotion, alumna Faith DeNeve and athletes gather around during the post-point huddle. Alongside girls' JV head coach Desmond Stevens, she encourages her players to get through the game. DeNeve spent her first season as an assistant coach encouraging a sense of teamwork and union among athletes. Her passion for volleyball fuels her a new role: coaching her players on the very court she trained on a year ago.  DeNeve graduated from Portola High in 2021 and is currently studying art history at Irvine Valley College.
Her love for volleyball started when she was ten and progressed as she played throughout high school, joining varsity as a setter. 
"It's been such a huge part of my life so far I think I'll always love volleyball," DeNeve said. 
When DeNeve was asked to become a coach, she immediately took the position after falling in love with the coaches and the program. 
"I love working with other people and being able to share something with others that I'm so passionate about is really gratifying," DeNeve said.
Throughout the recent girls' volleyball season, DeNeve coached JV and quickly won the hearts of her athletes, according to girls' volleyball head coach Heidi Martasian.  
"We love coach Faith. She's really sweet and she played not too long ago. She understands how it is playing out on the court," JV volleyball middle blocker and sophomore Skyler Barnes said. "And she also really pushes us to have fun instead of worrying about the game." 
As an alumna, DeNeve was able to relate to her athletes and figure out the best way to coach them while maintaining an understanding of their wants as student athletes. 
"I definitely do think that me being so close to being a player and like a high school player specifically has shaped my perspective of coaching because I know, kind of like, what the effect of certain things are on players," DeNeve said. "Maybe something was going on that day at school, or maybe like they had a test, and they didn't sleep very well or very much the night before. So it's like, having more of those personable skills and just being able to relate to the girls is really helpful." 
DeNeve has proven to be a great role model to her athletes, constantly cheering them on and encouraging them to do their best, according to Martasian. 
"I think it's important for them to have someone just a few years older who's kind of gone through the same exact thing that they're going through right now but recently," Martasian said.
Now that the season is over, DeNeve advises future athletes to cherish their last season as it goes by really fast.
"Even the hardest parts, maybe the hardest losses, or maybe when you have a really hard, difficult practice where your coach is pushing you really, hard you want to really value that in the moment," DeNeve said.
"It might seem like, 'Oh, this sucks, this is terrible.' But then realize like, this is part of your high school experience. And these are really going to form memories that you'll have forever."
Leave a Comment
Your donation will support the student journalists of Portola High School. Your contribution will allow us to purchase equipment and cover our annual website hosting costs.