Neuroscience on the Mind: Students Compete in Irvine Brain Bee
Four Portola High students competed in the 2022 Irvine Brain Bee, hosted at the University of California, Irvine, on March 5, according to Brain Bee club co-president and junior Vicky Zhang. The annual neuroscience event included 119 students from over 40 high schools across Southern California and returned to an in-person format this year after being held virtually in 2021.
Each competition round tasked participants with answering multiple-choice questions on a variety of neuroscience topics, identifying various anatomical regions of the brain and taking part in an oral free-response section, where contestants were asked to explain or contrast specific neuroscience concepts, according to the Brain Bee website.
Activities held throughout the rest of the day included a keynote lecture by UCI neurobiology professor Liz Chrastil on how humans navigate and remember three-dimensional environments, an exploration of brain cross-sections and a station that allowed participants to control a robotic arm using nerve impulses.
While some students have been preparing for and attending the event independently since their freshman year, the 2021–22 school year is the first year that the Brain Bee has a dedicated club on campus. According to club co-president and junior Vicky Zhang, she was inspired to found the club and create a community around neuroscience, a field she believes often flies under the radar.
"Because my grandfather was diagnosed with Alzheimer's disease, that was the point when I started to be interested and engage in neuroscience research, and I found that there seemed to be a lack of awareness about neuroscience," Zhang said. "I felt like the competition could help us better provide a platform for us to gather like-minded students together to share and show their knowledge."
For junior Janice Jang, the competition has been a catalyst to explore neuroscience and medicine as careers in greater depth. After a college counselor introduced them to the Brain Bee in their freshman year, Jang learned from their interactions with UCI mentors that an interest in neuroscience can connect to other fields as well.
"There's a lot of people [at UCI] who are interested in neuroscience, but they also really like computer science, so they're using those two to study neuroscience. And there's some people there who like engineering, and they can combine those two," Jang said. "Going to the UCI Brain Bee has taught me that you can combine different interests, and you don't always have to choose one specific thing that you like."
The Brain Bee is open for all high school students to attend, as long as they register in advance. Despite the depth of knowledge featured at the Brain Bee, according to Jang, the atmosphere of the event is far from intimidating.
"I think it's a really nice activity that you can participate in because it's not extremely formal and sort of casual," Jang said. "You get to talk to other people who are excited about neuroscience and also get to talk with people who attend UCI and learn about their experiences."
Leave a Comment
Your donation will support the student journalists of Portola High School. Your contribution will allow us to purchase equipment and cover our annual website hosting costs.
About the Contributor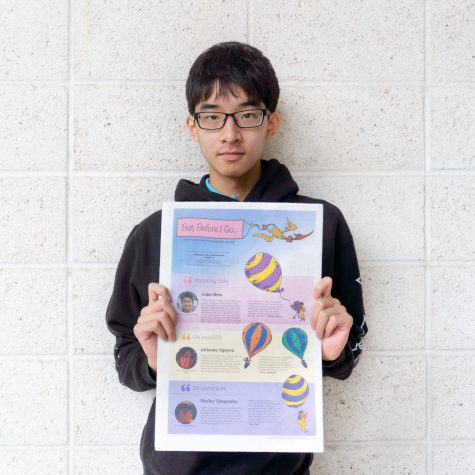 Justin Tang, Back Page Editor
Justin Tang is the Portola Pilot's Back Page Editor for the 2021-22 school year, his second and last on the team. Throughout the year, he'll make sure...