New Year, New Me – New Country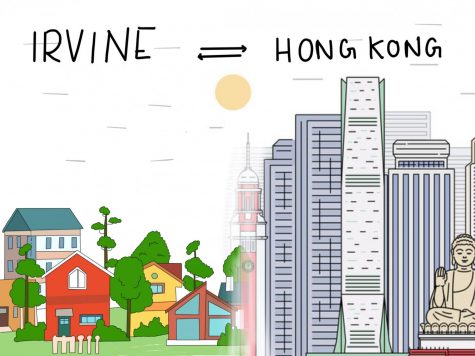 Look to the west – a vibrant sun reflects off the Pacific Ocean, downtown Los Angeles casts shadows on itself, palm trees speckle the city's tangled freeways and overgrown suburbs. Look to the east – a glimmering moon reflects off the South China Sea, congested evergreen forests cover the hills, Hong Kong's distinct concrete monoliths stretch into the sky.
From one end of the world to another. Pulled across fifteen time zones. Separated by a 7,000-mile stretch of water. Going to a new school abroad marks a dynamic turning point in the lives of students studying abroad.
After growing up in Hong Kong, senior Hailey Tsui emigrated to the United States in late July, leaving behind the familiarity of her international private school. This is Tsui's first year attending an American public high school.
"Everything I've had was very, very scary in a sense because there are many unknowns, and I had no expectations," Tsui said. "I was excited to leave [Hong Kong], but at the same time, there were also a lot of insecurities because I had to go from having everything to having nothing."
Tsui's adoration of American culture started with her first trip to the United States in Washington, D.C. when she was five years old. Since then, she and her family have made bi-yearly visits to other prominent American destinations, including New York City and Maryland, before permanently relocating.
After a six-day excursion to the West Coast during sixth grade, Tsui – who said she hopes to pursue entertainment law in California – developed a particular love for the diversity and opportunities in Los Angeles and Irvine, along with Californian landmarks like Disneyland and Hollywood.
"My friend told me everything about Irvine, like there's Asian food, there's a huge Asian community and it's one of the safest cities in the states, so this was one of our biggest considerations for living," Tsui said. "The day I stepped off the plane and arrived in Irvine I was like, 'This was the right place.'"
At the time Tsui ventured west, another student was boarding an international flight to Tsui's home city: Hong Kong.
Naila Talib, a former Portola High student and current junior at the Li Po Chun United World College of Hong Kong, emigrated to Hong Kong on Aug. 26. The move came after a grueling seven-month application process and a long-anticipated scholarship acceptance letter from the United World Colleges Movement, a competitive academic program with 18 international private schools across four continents. 
"I don't think I've ever been happier," Talib said. "The next two years of my life would be abroad at this really amazing school that I had wanted to go to for so long."
In sixth grade, Talib grew fascinated with Mandarin, recognizing its ubiquity as the world's second-most-spoken language, according to Ethnologue. Throughout middle school and high school, she has adamantly studied Mandarin through immersion programs and classes and has now reached speaking proficiency.
"I was just surrounded by all these people who are just as ambitious as me to improve their fluency in Mandarin, and I thought that that was such a neat opportunity," Talib said. "I think it had a really good influence on me to be able to find more motivation to learn more about the Chinese culture and the Chinese language."
Today at LPC, she shares a dorm with three roommates from different countries, and her school campus houses 250 students from 90 countries, according to the LPC website. With constant exposure to diverse social and economic backgrounds, Talib said she has learned to look beyond cultural stereotypes portrayed in the media.
For both Tsui and Talib, emigration invited a look into different lifestyles internationally. Compared to the compact, walkable urban environment of Hong Kong, the large distances between destinations in California were a standout for Tsui. Meanwhile, Talib admired the different ethnicities and languages like Cantonese prevalent throughout Hong Kong.
But with new realities also came unforeseen challenges.
"I'm an only child, and my friends in Hong Kong were essentially my family, and whenever I had anything or any ups and downs, I would always tell them, and we'd share everything," Tsui said. "But coming here, at night, I was like, 'Mom, I don't have any friends,' because there's a time difference, and that's one thing I lost."
As the school year came to a start in Hong Kong and in Irvine, Talib and Tsui found comfort in their aspirations to learn about new cultural environments and in their sense of community. 
To share her experiences with her own online community, Talib documents her journey abroad on her blog, Breath of Beyond.
"There's people from all over the world and we come here, we're all studying together and we spend our lives completely surrounded by each other," Talib said. "I have a new appreciation for a certain country because I know someone from that country."
At Portola High, with its own diverse array of student communities – athletic teams, musical groups, clubs and student publications – Tsui found belonging through marching band and symphonic band.
"At Portola, the community here is very open and people are very welcoming, and people are very considerate, and they know that you're not used to this place," Tsui said. "They would always come up to you and ask if you're okay. Having this community helped me get used to everything and help me feel like home."
Leave a Comment
About the Contributor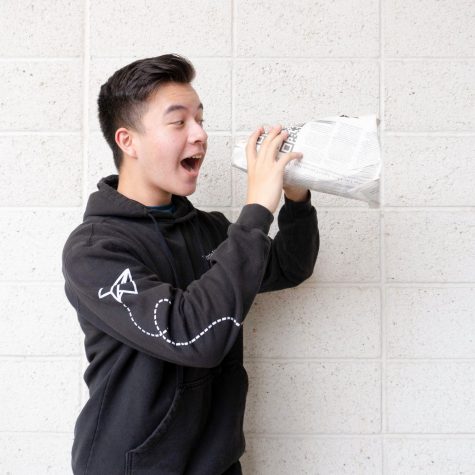 Ryne Dunman, Co-Editor-in-Chief
Ryne Dunman is the Co-Editor-in-Chief for his second and final year on the Portola Pilot. This year, he's excited to make new memories in-person and...