Spirit Week is Coming to Campus
As Forthcoming quickly approaches, ASB is working to plan the school's first Spirit Week, which leads up to the legacy game, halftime show and dance. The week-long celebration will take place during lunch in the Student Center each day.
"Spirit Week is the first time our school unites as one under our very first Forthcoming theme: Dancing Through the Decades. It is going to give the students a taste of what Forthcoming will be like and leads up to the dance and legacy game," spirit rally commissioner Liz Moerman said.  "It allows the students to have a lot of fun during lunch and during their day, giving them and their peers a chance to dress up and do activities that they may not have had a previous chance to do."
ASB spent three weeks preparing for the upcoming events, including decade dress-up days. Students have been collaborating to combine the daily themes presented during Spirit Week to put together a halftime show that students hope will leave a lasting mark on the school.
"The halftime show will be something that everyone should go to. It is going to be our first ever halftime show, and the students are working really hard in ASB to pull that off," math teacher and activities director Sarah Dean said. "Since it's the first ever for Portola, it is something that should not be missed."
Staff members and students across the school are planning to participate in the activities. Freshmen Mariya Idris and Helena Hu said they will partake in some of the events, including the halftime show.
"I'm looking forward to the game on Friday," Idris said. "I'm helping my house with the halftime show by helping to design the placard of our decade for the game. I'm very excited about being a part of Portola High's first ever Spirit Week!"
Almost every day after school, the houses will hold rehearsals for the halftime show, with the house leads and participants meeting on their own time to collaborate. ASB sat through many preparation sessions in order to finish on time and ensure an enjoyable experience for all.
"This next week is going to be one of the most important and fun weeks of the entire school year," Moerman said. "The student body gets to collaborate and make something that will last for generations to come and create the legacy of Portola forever."
View Comments (1)
About the Contributor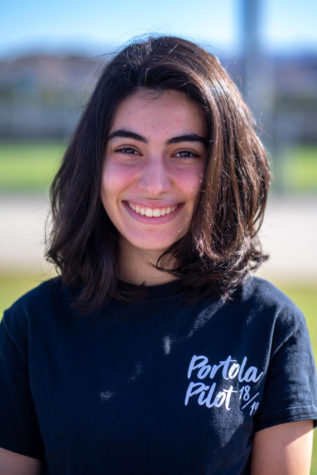 Maya Sabbaghian, Managing Editor
Maya Sabbaghian is one of two 2019-2020 Managing Editors. A staff member since 2016, Maya has previously served as a 2017-2018 Editor-in-Chief, and as...