State of the District: Our Current Standing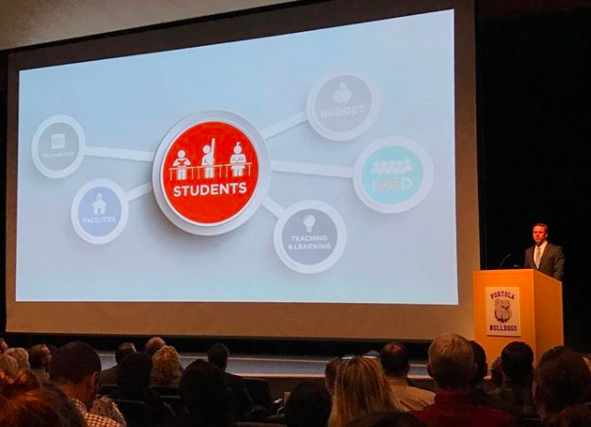 Irvine Unified School District's teachers and administrators, community members, parents and students gathered in the theater to listen to superintendent Terry Walker discuss IUSD's current standings in the first State of the District address on Nov. 2.
The event's main message emphasized that every aspect and action carried out by the district is centered around its students.
"Irvine Unified School District is providing the best education that we can envision with our support of teachers, principals and schools," IUSD Board President Ira Glasky said.
Choir opened the event by singing "Sisi Ni Moja" (We Are One), a Swahili song about unity, correlating with the district's message of unity and connection.
"That sense of connection to me is key," Walker said. "We want everyone, regardless of how they are doing on report cards and things like that to feel like the school is here for them and we are here to make sure to maximize their capacity."
The presentation was divided into five parts, all of which were directly connected to students: budget, IUSD, teaching and learning, facilities, and technology.
Walker explained these connections and how they impact student performance, success and well-being.
According to an Instagram post by IUSD (@irvine_unified), "the key drivers of IUSD's success are student centered learning and developing a culture of excellence that is committed to continuous improvement."
Many statistics were presented throughout the presentation regarding each of the five sections.
For example, in 2016 to 2017, "Our parents volunteered over 320,000 hours…They put a value on that of 7.8 million [dollars], but it's worth way more than that, not just hourly, but because of what it does for our school district," Walker said, later continuing into the budget category with another statistic. "Now, IUSD is literally one of the lowest funded school districts in the nation. I'm not talking the lowest 5%, I'm talking the low half of 1%."
The statistics helped shed light on the current standing of the district, both positives and negatives.
Walker expressed pride that IUSD is one of the highest performing districts in the nation, according to a statistic of the large number of IUSD schools on U.S. News' ranking of best high schools.
"My favorite part was being able to see how amazing this district is," sophomore Ava Fakharpour said. "Some of the facts that [Walker] said were unbelievable. It's really awesome to know that we are a part of such an amazing district."
Walker focuses back on how the district can best serve the students and what the district is currently doing to serve the students.
"At the end of the day, our clients are our students, and I feel when we come together like this and talk about how we work together to support our students, it reminds us of why we exist and why every resource, whether it is a facility or technology or a staff member, exists to serve our students," Walker said.