The Indoor Event
November 26, 2019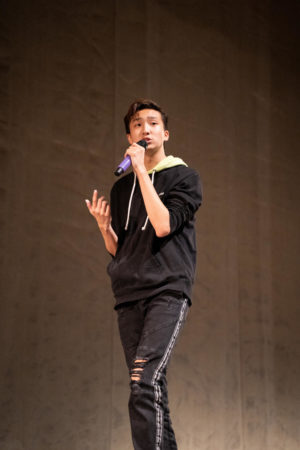 Students from all six IUSD high schools gathered together to celebrate Irvine Talks' Chapter 3 on Nov. 23 from 7-9:30 pm. This year's theme was "Movement," which featured many different interpretations from this year's 18 performers, four of which were Portola High students.
From stories of battles with depression and eating disorders to choreographed dances and original music, the event revealed a true theme of unification among audience members, no matter which high school they attended.
"We've all done some kind of movement, whether it's switching a school, changing a mindset, and we just wanted that to be a centralized idea," vice president Anshay Saboo said. "The whole idea is to understand that we are defined by our perspectives and our experiences as all kids in Irvine. We might think that we're alone in our experiences, that we're like nobody really understands what we're going through, but I want people to understand that this is like we're in this together."
The performances filled the auditorium with both awe-struck silence and passionate cheering, reflecting the dynamic interaction between speaker and audience.
"I was able to find pieces of myself within each story, and it gave me strength and inspiration knowing that everyone is connected by similar struggles and successes," senior Stephanie Zhang said. "It was touching for me to see how much all the speakers were willing to show their vulnerable stories of ultimate growth."
Senior Jude Chau's performance, titled "A Self Worth Having," was accompanied by moments of tear-inducing laughter, a stark contrast to his serious experience with self-doubt and depression.
"In my talk, I indicated that we can think that we're moving, but really, we're just walking in circles, going through the motions. I hope that people took that to heart while listening to my talk," Chau said. "Nothing gets done if we just sit alone, sulking in our own emotions. Healing and growth takes effort."