2022 Academy Awards Leave us Wondering if the Future of the Oscars Might Stray Too Close to 'Nightmare Alley' or Soar above the Sand 'Dunes'
Once a year, Hollywood's elite gather in the Dolby Theatre to celebrate contributions to the world of film. However, beneath the glitzy Versace gowns and the elusive golden envelopes lie a series of often-memed pop culture moments. Here are ten of the 2022 Oscars' biggest moments.
WORST: Twitter Fan Votes
The Academy is often scrutinized for its failure to award blockbusters with top prizes, "Spider-Man: No Way Home" and "Frozen II" being two of the most egregious examples. In order to reconcile this, the 2022 Oscars made the interesting decision to implement two fan-voted categories: Twitter Fan Favorite and Cheer-Worthy Moment. Both were won by Zack Snyder films ("Army of the Dead" and the Snyder cut of "Justice League"), making us question the legitimacy of the award.
BEST: Hilarious Stand-Up
Hosts Regina Hall, Amy Schumer and Wanda Sykes  told jokes that perfectly achieved a succulent, dry humor. They called out controversial topics, such as the Academy's decision to go with three female hosts because "it was cheaper than hiring a man," and threw subtle digs at Florida's highly controversial "Don't Say Gay" bill by predicting that everyone in Florida would "have a gay night." This brought to light some deeper issues and deviated from the otherwise groan-inducing quips the rest of the night brought.
WORST: Backstage Tone-Deafness
Preaching themselves on diversity appears to be one of the Oscars' biggest hobbies. The first female director to win twice! Multiple non-white acting winners in one night! But why won't anyone talk about the Oscars' decision to play "Africa" by Toto as the introduction music for two Black presenters?
BEST: Heartwarming Wins
Every awards season, one film appears to be the clear front-runner for the elite distinction of Best Picture. In 2017, it was the nostalgic musical "La La Land." In 2019, it was the intimate passion project, "Roma." In 2020, the dark war drama "1917." But each of these films ended up missing out on the grand prize, to "Moonlight," "Green Book" and "Parasite," respectively. And the 2022 ceremony was no exception. "CODA," a heartwarming family tale, ended up beating Jane Campion's thought-provoking Western, "The Power of the Dog," seen by many as the only possible Best Picture winner.
WORST: Uncomfortable Humor
Regina Hall calling conventionally attractive men up for "emergency COVID-19 testing" just barely straddled the line between entertaining and cringeworthy. Hall patting two male presenters down in a suggestive manner was anything but funny and was even harder to watch than divisive Best Picture nominee "Don't Look Up."
BEST: Deaf Representation
"CODA"'s special night began when a star of this film won the Best Supporting Actor award: Troy Kotsur – the first deaf male actor to win an Oscar and use sign language to deliver his (extremely emotional!) acceptance speech. It's a shame that his win was interrupted by Chris Evans' shameless plug of his heroic turn as Buzz Lightyear in Pixar's upcoming sci-fi film "Lightyear."
WORST: Backlash
The average movie takes around 800 people to produce – some of the tentpole films honored at the Oscars need even more. From the actors to the sound engineers to the makeup artists, every part of a film's production deserves its rightful recognition at film's grandest event. However, the producers decided to focus on crafting a more concise and entertaining show, cutting out eight technical categories (Editing, Hair/Makeup, Score, Production Design, Sound and all three Short Film categories) from the televised broadcast in favor of a pre-show segment.
BEST: Inspiring Speeches
Another brilliant acceptance speech (that fortunately was not followed by an extended advertisement) came from Jessica Chastain, who won the coveted award of Best Actress for her decade-spanning turn in "The Eyes of Tammy Faye." The first-time Oscar winner took the stage to spread awareness for LGBTQ+ individuals and directly called out the Floridian government for its controversial legislation.
WORST: Awards Show Brawls
The Oscars are no stranger to scandals, from John Travolta's comedic badgering of Idina Menzel's name in 2014 to the infamous incident when "La La Land" was incorrectly announced as the Best Picture winner in 2017. But this year's notable scandal appeared to have a more personal feel to it – after hearing Chris Rock's disrespectful joke about his wife Jada's alopecia, Will Smith stormed the stage and personally delivered Rock a sharp slap in the face, using some profane language to accompany his outburst. Forty minutes later, Smith won Best Actor for his performance in "King Richard" and used his accompanying speech to apologize to the Academy for his conduct, while reaffirming his status as a defender of his family.
BEST: A Historic First
Of all the epic wins of the night, one stuck out in particular. Ariana DeBose, who first gained fame starring as the Bullet in "Hamilton," won her first Academy Award for her emotionally potent portrayal of Anita in Steven Spielberg's remake of "West Side Story." The first openly queer woman of color to win an Oscar, DeBose reminded us that "there is indeed a place for us all" in the entertainment world.
Leave a Comment
Your donation will support the student journalists of Portola High School. Your contribution will allow us to purchase equipment and cover our annual website hosting costs.
About the Contributors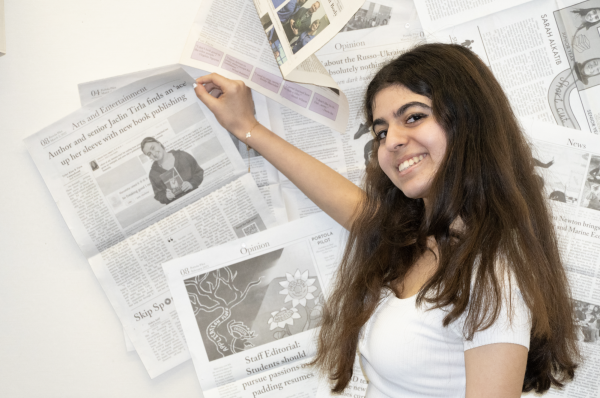 Tara Vatandoust, Co Editor-in-Chief
Tara Vatandoust is an Editor-in-Chief for her third, and sadly, final year on the Portola Pilot. This year, she is looking forward to (finally!) being...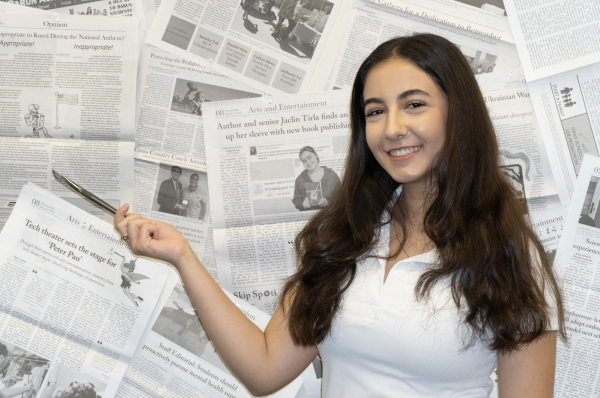 Shaina Taebi, Backpage Editor
Shaina Taebi is the Backpage Editor for her third year in the Portola Pilot. For her final year she is excited to spend class time drawing more editorial...