All Coming Together: Seniors Tailor College Application Art Portfolios To Convey Powerful Themes
Compared to creating a vibrant painting, a detailed sketch or a thought-provoking sculpture, compiling a portfolio of artistic work may seem to involve fewer artistic choices at first glance. However, for seniors in AP Studio Art and Advanced Portfolio Prep, a portfolio for a college application means much more than individual pieces put together.
As a means for colleges to evaluate the work of prospective art majors, portfolios must meet technical requirements specific to each school. According to AP Studio Art and Advanced Portfolio Prep teacher Kearci Moir, colleges could ask students to include everything from traditional still-life painting to a piece of contemporary art — making portfolios an opportunity to experiment with different art forms.
"Every artist has their thing that they are most passionate about and are drawn to making," Moir said. "And so the point of the portfolio class is to get them out of that kind of comfort zone of 'I love to draw this one specific thing' and making sure that their portfolio has a little bit of all the things they might need."
Through placing special focus on the connections between separate works of art, artists can also use portfolios as a means of expressing their own identities or voicing concerns about society at large.
Through a Dadaism-inspired collage blending male and female clothing and a depiction of social media's ability to distort reality, digital artist and senior Summer Sim made confronting social constructs the centerpiece of her college portfolio.
"I think [social constructs] have a lot of impact on how certain individuals act one way or the other, and I wanted to portray how you can freely express yourself regardless," Sim said. "Self-expression has been a really big thing in my portfolio, and I kind of represent my own personality."
Meanwhile, other students in AP Studio Art have used their college portfolios to draw attention to current global issues. AP Studio Art student and senior Jessica Kim said she was inspired to portray broader societal issues such as environmental degradation and the dangers of technology after touching upon the struggles of a specific group in society — medical professionals during the pandemic — in the first piece of her portfolio.
"I based [the portfolio] off of one painting I did, so I made a painting, and then I started to use that theme," Kim said. "It was a painting of nurses holding each other. I wanted to show the emotions that the nurses and the health workers were going through in the beginning of COVID, when no one really knew what was going on."
With most art colleges releasing admissions decisions in March, AP Studio Art seniors have finished submitting their portfolios and are now awaiting their results. In the meantime, according to Moir, students have turned to their next project: tackling the upcoming AP Studio Art portfolio evaluation in May.
Leave a Comment
Your donation will support the student journalists of Portola High School. Your contribution will allow us to purchase equipment and cover our annual website hosting costs.
About the Contributor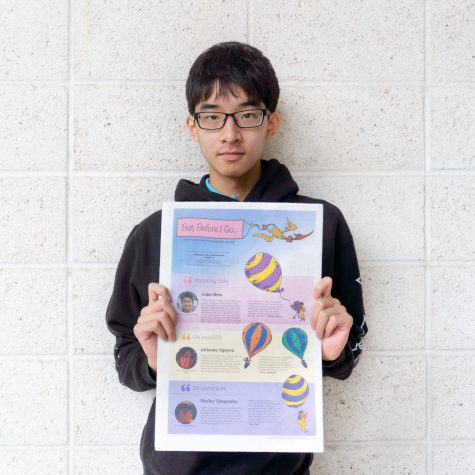 Justin Tang, Back Page Editor
Justin Tang is the Portola Pilot's Back Page Editor for the 2021-22 school year, his second and last on the team. Throughout the year, he'll make sure...