Alumni Attend College in the Age of Coronavirus
June 4 marked the first Portola High senior class graduation ceremony after the school's grand opening in 2016. However, the rippling effects of the COVID-19 pandemic have redefined college experiences for alumni across the nation.
As the fall semester comes to a shaky awakening for universities nationwide, how are our school's alumni faring, and where are they now?
Alumnus Kiyan Dhanidina is a freshman and prospective STEM major at Purdue University in West Lafayette, Indiana. Like many of his peers, the majority of his classes remain online with virtual office hour sessions and both prerecorded and live Zoom class lectures.
As an out-of-state student this year, he looks forward to the unforeseen opportunities and fresh start available in a new community; however, the virtual year in college has been underwhelming.
"It's definitely harder to meet a lot of people, and right now, with COVID, there aren't a lot of big events," Dhanidina said. "The big football games, the big events and the whole huge social aspect – that's the fun part about college. It's definitely a quieter fall."
Dhanidina is just one of the millions of students nationwide attending classes online for the fall semester. In fact, out of 3,000 surveyed colleges, 94% have made some form of virtual accommodation due to COVID-19, with 44% remaining entirely or primarily online, according to the Chicago Tribune.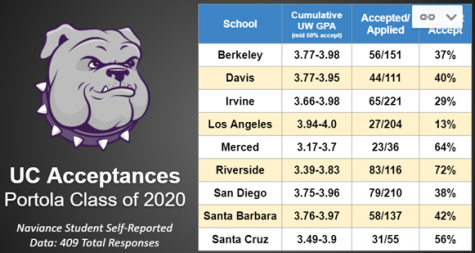 For alumnus Nishad Francis, a prospective political science major at the University of California, Los Angeles, Portola High's virtual curriculum helped prepare him for the homework-oriented online courses at his university.
"Portola definitely helped me because a lot of the things [UCLA] is doing are office hours, discussions, always interacting with the teachers – a lot of stuff that I've gotten used to because of high school," Francis said. "The biggest shift from high school to college is realizing that classes take up so much less of my time, and homework takes up so much more of my time."
While the abrupt conclusion to his senior year was bittersweet, he is excited to pursue a law career in the future and looks forward to providing legal services to the members of his community. After a memorable academic career at Portola High, he now stresses the importance of risk-taking and pursuing passions.
"
The only regrets I have about high school are the times that I was too scared to do something because I thought it wouldn't work out. Never ever be afraid of failing."
— Nishad Francis
"There are going to be those moments where you feel completely overwhelmed, and you'll feel like every decision you make is going to be a bad decision," Francis said. "The only regrets I have about high school are the times that I was too scared to do something because I thought it wouldn't work out. Never ever be afraid of failing."
Also among the Portola alumni attending local universities is Liz Moerman, a Business Administration major at the University of Southern California. After opting for USC's Residency Honors Program, she graduated high school early and became one of few Portola High alumni to experience a traditional semester in college prior to COVID-19.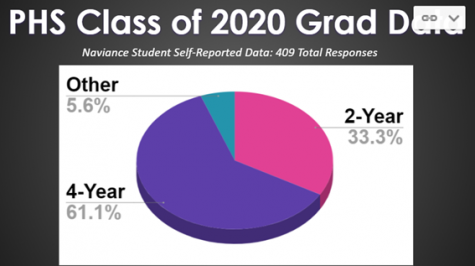 "It was definitely just an entirely different world where it still kind of felt like a bubble being in college," Moerman said. "My experience being on campus was definitely created by the people. Even if we didn't have the same interests, we had the same level of drive and passion. It was inspiring … being able to make friends from around the world is crazy."
Moerman is currently enrolled in USC's virtual curriculum and is an active member of the student-run Trojan Marketing Group. While she discovered a passion for marketing at her university, she initially struggled to identify her professional goals.
"
Don't focus too much on following a specific path. Everything that you will do is part of your path, and it's part of your story, and it will be part of where you end up."
— Liz Moerman
"I thought when I turned 18, or I went to college, everyone would be super aware of what they do," Moerman said. "Don't focus too much on following a specific path. Everything that you will do is part of your path, and it's part of your story, and it will be part of where you end up."