Alumni Network Connects Graduates and Students
The counseling department started a rolling project called the Portola Alumni Network on Oct. 26th. The project connects current students with Portola High alumni through social media videos on the Instagram (@portolaalum) and presentations about the high school experience, college applications and life after graduation.
Building upon existing college panels, counselor Ryan Itchon said that the network is intended to give more perspective to students about the realities of college, 
"We have a college unplugged panel where some of our alumni will be coming into our school to talk about their experiences in different colleges," Itchon said."That led me to say, 'Okay, why don't we take it a step further and create a whole network?'"
Itchon worked with college and career coordinator Monica Yang to reach out to alumni on Instagram, according to alumna and Rice University freshman Claudia Lin. Alumni from the classes of 2020, 2021and 2022 are currently involved with the project, according to Itchon.
"I loved it, just being able to connect with Mr. Itchon again and to just give back to the school because they really helped me prepare to take on college," Lin said. 
Students can explore different aspects of college life and the cultures of various schools and majors through the content posted on the Portola Alumni Network. According to junior Mathias Lee, the "day in the life" videos, where alumni document their schedules on a daily basis, were an interesting look into the actual day-to-day experience of a college student. 
"Just seeing what type of classes they have at what time of day, and then when they do their homework, or even if they have a job, how they balance that with their schedule," Lee said. "It gives me a very good insight into what goes on in a college student's life."
Beyond the social media content, Itchon also hosted a panel discussion with alumni on Jan. 5 during office hours. The panel gave students an opportunity to ask questions about the college application process and the difficulties of transitioning from high school to college, according to Lee. 
"I really liked how they brought the students to our school," Lee said. "I feel like it was nice to actually ask questions and talk to them face-to-face."
The future of the alumni network is still being decided as the project continues to develop, according to Itchon, who said that he hopes to give back to the participating alumni for their willingness to help by creating a LinkedIn account for alumni to utilize when trying to communicate with one another and search for potential opportunities. 
Leave a Comment
Your donation will support the student journalists of Portola High School. Your contribution will allow us to purchase equipment and cover our annual website hosting costs.
About the Contributor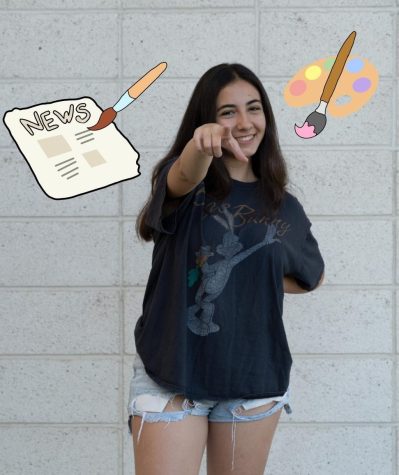 Shaina Taebi, Centerspread Editor
Shaina Taebi is the Centerspread Editor and is beyond excited to spend the year designing one of the few colored pages in the Portola Pilot. For her second...