American History Students take Fall Midterm about Nation's Political Midterms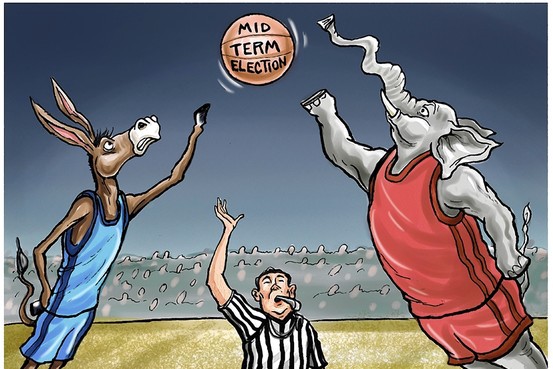 Honors and college prep American history students analyzed the trends from previous elections to predict the 2018 midterms by choosing one candidate to represent various Congressional Districts across the United States.
"Each group [of three] had to research the two candidates running, demographics and population of that state or district," American history teacher Katie Wi said. "Based on that information, they had to make a guess as to who would win."
Although it varied by group, most students based their decision on who was in the lead in polls and on public opinion. Wi graded the group's basic presentation skills, quality of work and how well the members explained their stance.
One prompt included who would be the U.S. representative for the 45th district, which includes Irvine: Democratic candidate Katie Porter or Republican candidate Marian Elaine "Mimi" Walters.
"My group chose that Katie Porter would win," sophomore Joselyn Durre said. "Mimi Walters is one of the people who would support Trump, and because of the outcry and social media and how all the different places oppose Trump, I think that maybe Katie Porter would be the one that gets elected."
In brief YouTube ads, candidate campaigns discredit their competitors and promote their own candidate. The taglines of "higher taxes, open borders and lost jobs" and "Mimi supports Trump 99 percent of the time" are ingrained in YouTube viewers, including students, because of how often they are exposed to these ads.
Other groups chose their candidate based on his or her policy, such as the group that explored the Nevada Senate race between Republican Senator Dean Heller and Democratic candidate Jacky Rosen.
"We compared [Rosen's and Heller's] policies: what they believed in and what they were offering to Nevada," sophomore Serena Wang said. "[Rosen] cares a lot about the environment, and she wants the government to provide more aid for veterans."
Only time will tell if these students' predictions were correct.