Bon Appétit! Meet Portola High's Cafeteria Food Critics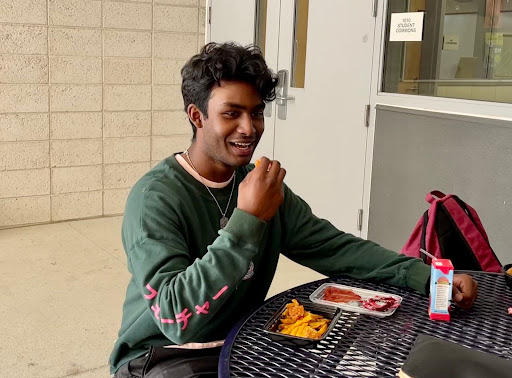 Crunchy beef tacos? Roast chicken drumsticks with a side of mashed potatoes and gravy? Tater tots and turkey chili? Whichever cafeteria meal you want to try, ask senior Pranay Sashikanth, and he will help you distinguish the stellar entrees. 
"With school making the lunches free, I started eating them more," Sashikanth said. "I would just talk to my friends like, 'Oh, this one is good. This one's not that good.' So then one day, I was telling my dad about how my friends and I were reviewing the food and he said, 'You know, maybe you should make an account where you review food.'"
Sashikanth launched a food review Instagram account, @cafeteriafoodreviews, in October 2021. His first post detailed the criteria he would use for his reviews: texture, quantity, appearance and heterogeneity. 
A cutout of five different celebrities — Ryan Reynolds, Henry Cavills, Chris Hemsworths, Simu Lius and Idris Elbas — represents each category, which Sashikanth chose to include to make each category memorable. 
Each category is scored on a five-point scale, which is added up and converted into a final percentage score. Out of Sashikanth's 65 food reviews, the Uncrustables's peanut butter and grape jelly sandwich ranks first with a final score of 92%. Following a close second is the fried chicken, mashed potatoes, gravy and corn combination with a score of 88%. 
"I know sometimes when people get lunch, maybe they want to try something new, maybe they don't know if something's good," Sashikath said. "I want to be the kind of guy who just eats everything and tells you if it's good or not."
Since October, Sashikanth's account has gained over 100 followers, helping students with lunch or snack menu suggestions. Freshman Inbum Cho said he tried the parfait and Lucky Charms cereal after reading the reviews on the account, which turned out to be one of his favorites. 
"Everyone is biased about food reviews for everything, so I don't necessarily agree with every single post since I have my favorite menus," Cho said. "I still think it's a pretty good way to look at the foods and other peoples' perspective like, what do other people think about my favorite menu?"
While students can access the account for menu suggestions, nutrition services supervisor Cindy Prunty is unsure whether the feedback will be able to reach the cafeteria for menu changes due to the stock shortages. 
"Right now, because we are serving for free this year, there's only so much we can do. Our menu can't be as broad as it has been in the past, not only due to the fact that because of the volume, but because of the product we're not receiving," nutrition services supervisor Cindy Prunty said. "But I'm open to all kinds of feedback as long as it's fair [whether] it's a positive that they're appreciating what's going on or if they think we can use a few tweaks here and there."
As a graduating senior, Sashikanth said he hopes to continue evaluating food at his future college cafeteria.
"I was thinking maybe when I go to college, I could review the food there. That's why I named the account cafeteria food reviews," Sashikanth said. 
And the tradition would continue. 
Leave a Comment
Your donation will support the student journalists of Portola High School. Your contribution will allow us to purchase equipment and cover our annual website hosting costs.
About the Contributors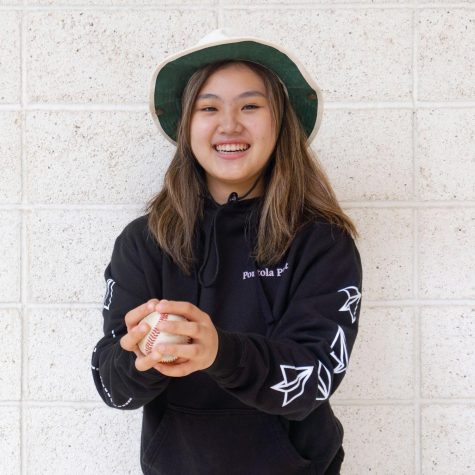 Grace Baek, Asst. Sports Editor
Grace Baek is the assistant Sports Editor for her second and final year on the Pilot. She is looking forward to getting to know the new staff members and...