Bulldogs Qualify for National Merit Scholarships
Helena Hu, Co-Editor-in-Chief
October 25, 2019
Fifteen seniors became National Merit Semifinalists through their performance on the PSAT last October. They will now compete for a Finalist standing from the National Merit Scholarship Corporation (NMSC), which entails scholarships of up to $2,500.
Seniors Jason Chen, Joyee Chen, Angelica Chi, Nicholas Delianedis, Nishad Francis, Tianxin Guo, David Jang, Esther Jung, Annie Qiao, Stephanie Tang, Grace Tu, Andrew Wang, Dorsa Zahedi, Xian Lun Zeng and Stephanie Zhang all qualified.
Semifinalists score in the top percent of the nation's test takers, but eligibility varies from state to state. California had the second-highest cutoff for the class of 2020. 
"I first found out that I was named a Semifinalist from a friend from another school who was also named a Semifinalist," Tu said. "At first, I was very confused and honestly thought she was kidding or her source was wrong, because I never thought I was smart enough to be qualified. My brain only processed the information when she sent me the official list, and I saw my name, and even then I couldn't completely believe it."
In order to qualify for a scholarship, Semifinalists must complete the NMSC application, where they will now be viewed holistically.
"[Semifinalists] are given an application process which consists of their official SAT or ACT score that they have to submit," college and career specialist Nicole Rengifo said. "they also complete an essay as well as extracurriculars… and then [counselors] have to submit their official transcripts and scores, so that the National Merit evaluates them as a whole."
Finalist standings will be announced on Feb. 10, 2020. Those who are not Finalists are still able to list National Merit Semifinalist as an accolade on their college applications.
"Even if I don't get any scholarships from this award, the accomplishment is nice to motivate myself, and help myself realize that there is always a way I can improve," Francis said. "There are other things I can do, either in school or other programs, that help me and seeing how my work can lead to achievements helps me motivate myself and go out and do even better."
About the Contributor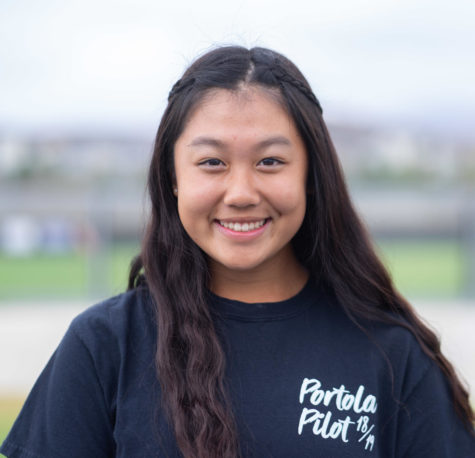 Helena Hu, Editor-in-Chief
Helena Hu is the Co-Editor-in-Chief of the Portola Pilot this year. As Centerspread Editor and Social Media Director for the past two years respectively,...