Campus Control and Calligraphy-Capable: George Mares
Campus control assistant George Mares is recognized by students as a senior-like figure on campus. Many students look up to him for his joking personality and capability as a wrestling coach. He is also a calligraphy connoisseur, an unusual hobby for the head of campus security.  
Mares wants to maintain a relaxed relationship with his students. Because of this, he prefers to be called by his first name rather than "Mr. Mares."
"I just think [being called Mr. Mares] sounds weird… I try to not let students get too comfortable with me, but I still strive to be approachable, and calling me Mr. Mares feels like a barrier between relationships," Mares said.
Mares can often be found socializing with students while he patrols the campus during lunch. While he strives to be casual and friendly, he is not afraid to let students know when they are taking it too far.
Additionally, he is known and admired by many to be adept at calligraphy, and some students are even able to be taught calligraphy by him.
"It was during my free period. I was drawing and then [George] walked by, and he saw that I was doing art, so he offered to teach me [calligraphy]," freshman Audrey Chiang said. "He's pretty cool, because he's like a part of us. He interacts with us. He's not just a worker that just stands there in the corner."
In addition to being a role model for students, Mares has a positive relationship with other staff members. His calligraphy can be seen in some classrooms throughout the school.
"He's done [calligraphy] in my classroom….I think I've seen [George's calligraphy] in Murphy's room and a bunch of other teachers' rooms," social studies teacher Heidi Martasian said. "He just offered, which is pretty cool."
Mares has been practicing his calligraphy for several years, and he has been able to display his talent at the school. His calligraphy is on whiteboards, cards, and papers, depending on the request of the teacher.
"[Calligraphy] is just something I learned myself. I taught myself…I started third grade handwriting, and then it probably took me to about maybe high school that it actually came out pretty good," Mares said. "Every day is different. I learn something every day. It's like a hobby. I do calligraphy, and I do Old English, and I do lettering. I don't know how to draw, I just know how to do letters. Every day I'm learning new stuff."
About the Contributors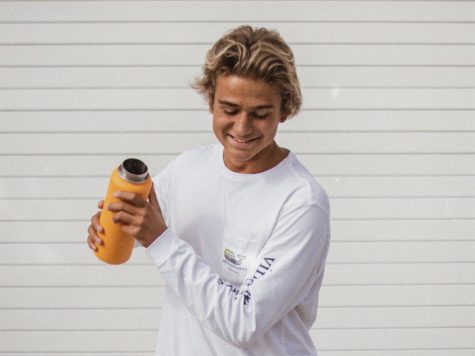 Dylan Gates, Media Director
Dylan Gates is the Media Director of the 2018-2019 Portola Pilot staff. He is in his Junior year at Portola and has been working with the Pilot since the...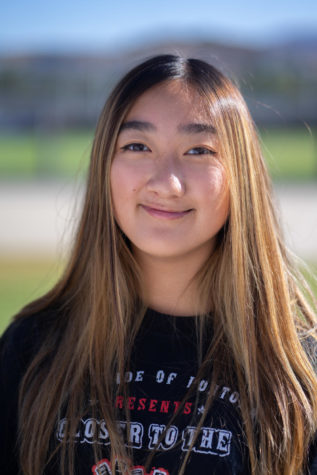 Annie Qiao, Arts & Entertainment Editor
Annie Qiao is your 2019-20 Arts & Entertainment Editor for her fourth year at the Pilot! As a passionate admirer of the arts, she hopes to bring a...