Change Project: Portola Progresses with Student Portfolios
The 2017-18 end-of-year portfolio project is changing both in process and theme. Freshmen and sophomores will be creating online portfolios based on the theme of change in regards to their interdisciplinary experiences across multiple classes.
"We want to try to make the project more interdisciplinary, and we wanted to make it more student-centered," principal John Pehrson said. "If the idea of the project is for students to be able to see how everything they are learning relates to a theme, then we didn't want to make it so much of a canned process where each teacher tells you what to put into the portfolio. We want students to decide for themselves what makes the most sense to put into the portfolio."
Unlike last year, the change project will be facilitated by sophomore portfolio mentors and will be created in advisement rather than a Literary and Language Arts class. In early March, sophomore mentors taught the basic website layout and introduced the three prompts regarding change in advisement.
"[The project] allowed me to understand how interconnected the classes are and that even if science and history are two completely different things, their mindsets and the basic knowledge they want you to learn is vastly connected and often relates to your passions, which I really enjoy," sophomore presenter Nishad Francis said.
In April, students will be assigned teacher mentors they are familiar with to guide reflection writing and artifact connections. The completed portfolio websites will be due on May 15 and will be scored on appearance, effort, artifacts and reflection writing.
"This isn't something any other school we've ever known in Irvine Unified and potentially other schools have done. This is not a normal high school, and 'not normal' means that we want to be above and beyond and change the norm of how education is," yearbook and math teacher Crystal Le said. "As long as our staff and students are willing to risk being different, [the project] will continue."
About the Photographer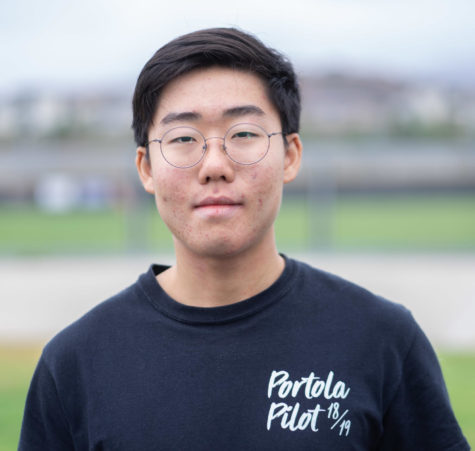 Ki Joon Lee, Sports Editor
Ki Joon Lee is your 2019-2020 Sports Editor. On his third year with the Portola Pilot, he is excited to deliver sports news and feature amazing Bulldog...