Changing Perspectives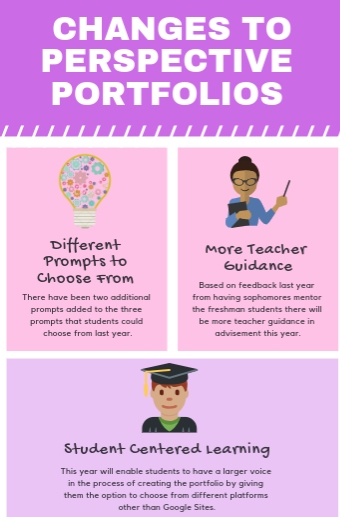 Students in all grade levels will be crafting their individual portfolios throughout the year in their advisements. The portfolios are a schoolwide project in which students are given the opportunity to reflect on their year at Portola through the lens of the annual topic, this year's being "Perspectives."
"The first year, we brainstormed a bunch of themes, and we prioritized them, and we talked about which themes would best fit across all departments," principal John Pehrson said. "We basically have four that rose to the top, so we are going to have those four and rotate them every year: Identity, Change, Perspective, and there's going to be another one next year."
Similar to last year's "Change" portfolios, students will choose at least three disciplines (two of which need to be academic courses) and draw connections in context of a perspective they are passionate about. Students will also continue to choose four to eight artifacts, such as projects, essays, musical recordings or photos that help reinforce these connections.
After incorporating student feedback from last year, staff has made some new changes to the "Perspective" portfolios, including expanding options for the platform of the project and expanding the timeline to complete it.
"A lot of the feedback that we got was centered around the students wanting to have more voice and choice in certain aspects of the project," science teacher Jeralyn Jelnick said. "For example, if a student does not want to do the Google Sites type format and wants to be a little more creative with how they present the artifact of the portfolio, then we have options available for students to do that."
Another critical aspect of the portfolio is the 500-700 word essay in which students explain how each discipline and artifact that they chose connect to each other in the context of perspective. Last year, students were limited to only three prompts, while this year they have five prompts to choose from, with one allowing students to create their own prompt.
Previously, the portfolio project was started and completed through the second semester. However, this year the project has expanded across the entire year.
"We have quite a few designated days in advisement where we guide students through the process," Jelnick said. "Last year, we had sophomore mentors that helped the freshmen. We didn't get the best feedback from that, so what we are shifting more towards is using your advisement teacher as a guide and using those advisement lessons."
Students began to assemble their portfolios in advisement on Nov. 6. The next planned advisement day will be on Dec. 18, when students will select the prompt for their essays as well as their mentors for the assignment. Mentors are staff members who help guide their designated students through the project.
"I'm really looking forward to being able to develop a portfolio that really represents me," junior Liz Moerman said. "I feel that us being able to choose from such a large range of prompts and start the process so early on in the year will give me the ability to create something that I'm proud of."