Cheer Brings Home Second at Regional Competition
Applause fills the gymnasium as the cheerleaders rush onto the mats, setting down their pom poms and posters and taking the starting positions in their routine. 
Competitive cheer placed second in the Varsity Show Cheer Non-Tumbling Novice division at the United Spirit Association Regional Competition at Tustin High on Jan. 18, qualifying for the national competition on Feb. 14-15 at the Anaheim Convention Center. 
Judges evaluate performances based on how well skills, like tosses and pyramids, are executed  along with the difficulty of the skills themselves. While a higher skill difficulty will add points to the competitor's baseline score, if a stunt falls or an individual makes a mistake, judges will deduct points from the score. The 12 athletes on the competitive cheer team received 92.67 out of 100 points overall.
"We got runner-up, which was really awesome, and it was a really good morale boost for the girls too," head cheer coach Allison Leyva said. "When we went into regionals, we were changing it back to what we originally had — our stunts and our pyramids. I think that really helped going into regionals, that we performed the harder skills and still did really well."
For this competition, the team's biggest struggle was the loss of several members last November, which forced Leyva to choreograph an entirely new routine in just under two months. The cheerleaders demonstrated unwavering dedication and commitment through their three-hour practices after school and on the weekends.
Constant communication between cheerleaders is required to ensure a seamless and error-free performance.
"You need a stable connection with every single person on the team in order to make sure that everything is working," junior and cheer captain Abby Hopper said. "If you don't trust your backspot or your flyer or your base, it's just not going to work."
Aside from preparing physically, cheerleaders need to ready themselves mentally for the performance aspect of the competition as well. 
"I get really nervous about my stunts because it's a team effort, and as a flyer, I feel pressured to do well and perform the stunt well…I'm also stunting in multiple parts of the routine, which makes it really stressful," sophomore and flyer Hailey Kim said. "I just try to believe in myself and my team because, honestly, all we need to do is just believe in ourselves."
Until the national competition, the cheer team will be hard at work practicing their routine with minor changes made to the dance and pyramid components. And while a victory at the competition is ideal, it is not the team's only priority. 
"I hate to say 'We really want to get first,' or 'We really want to get second.' That's never really it. I think our number-one goal is for our girls to have fun doing this," Leyva said. "It really didn't matter what we placed — if we got first, if we got second, if we got fifth — we did the best that we could do."
About the Contributor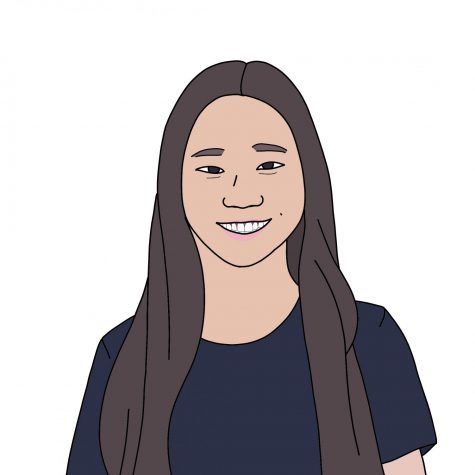 Lauren Hsu, A&E Editor
Lauren Hsu is your 2020-21 Arts and Entertainment Editor for her second year on the Pilot staff. She is looking forward to working with such an amazing...