Congressional App Challenge Reports Record Participation
Students submitted self-designed apps to the Congressional App Challenge on Oct. 19, a Congressional district-wide competition. 
The competition, hosted by members of Congress, invites high school students to design an app addressing needs in their community, along with a demonstration video explaining their app. Winning apps are eligible to be displayed in the U.S. Capitol Building and featured on the House of Representatives' website, and winning students are invited to #HouseofCode Capitol Hill Reception in Washington, D.C.
Juniors Henry Liu, Kevin Lu, Arvin Zhang and Howard Zhang programmed an app called "Inquire," an education-based program in which students and teachers can interact more directly through a mobile interface.
"The concept of the app is that teachers are able to come onto the app and make channels where students can join that channel," Lu said. "Teachers can post quick questions for all students to respond to, and everybody can just swipe through all the questions asked within the channel."
Juniors Akanksh Divyananda, Diya Jain, Saachi Raju and Ansh Vijay designed "Civica," a mobile app to help Gen Z stay up to date and informed about politics. 
"I made an app for the Congressional App Challenge because I wanted to get into coding," Vijay said. "The inspiration came when my parents or my older brother and his friend would talk about politics or presidential candidates and their policies, and I would have no idea what they're talking about."
More than 6,000 students submitted apps, totaling more than 128,000 hours of code and 1,851 original apps submitted for consideration according to the official competition website.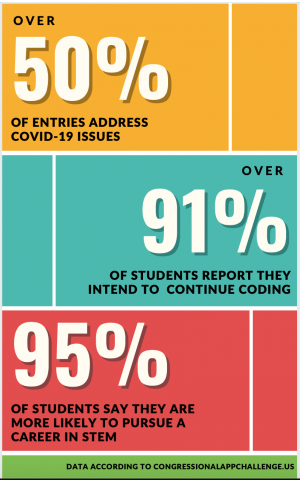 The challenge recognizes that the process of building the app is just as important as the end result. In addition to programming the app itself and creating an explanatory video, contestants must explain in short-answer form the process of designing the app.
"Since we know how to make an app now, we would make it… better-planned," Liu said. "An example would be the way our database is structured. We just changed things as we went, like improvisation."
Alumni Jimmy Kang and Stephanie Zhang won the Congressional App Challenge in California's 45th Congressional district in 2019 with their machine learning app, "Blossom," a drug discovery app that predicts hotspots on protein complexes using machine learning algorithms.
When asked what he would advise his past self, Kang said, "I would tell my past self not to be so nervous about the whole thing and to just treat it as an interesting way to show the world what Stephanie and I made."
Volunteer judges reviewed the work of contestants between Nov. 2-15, and winners will be announced throughout the rest of the year, beginning in December.
Leave a Comment
Your donation will support the student journalists of Portola High School. Your contribution will allow us to purchase equipment and cover our annual website hosting costs.