Corona Fire Inspector and Portola Mom Linda DeTorres Balances Family and Fire Prevention
Linda DeTorres pulls double duty every week as both a mother to sophomore Sloane DeTorres and a Corona Department Fire Inspector. After graduating from Crafton Hills Fire Academy in 1994 and working with Corona Fire Department for eight more years, Linda DeTorres took a break as soon as her daughter was born. She eventually returned part-time in 2018, implementing the new Fire Prevention Plan that includes regular smoke detector and fire hazard check-ins bi-annually. 
"I think when my mom was sick, and I used to see [the firefighters] coming and doing the medical calls, that was probably when I thought I could do this," Linda DeTorres said. "I wanted to help people. I wanted to be that person…My mom has since passed away. She never saw me go through the fire academy, which was a bummer because she would've supported me."
Though she had to face misogynistic comments from outsiders, Linda DeTorres reflects on the past as her greatest achievement, as she proved to herself she could do the job. 
"Out of the forty people, I was the only female that had applied for [the Crafton Hills Fire Academy]," Linda DeTorres said. "At first, the guys looked at me like, you know, 'Oh, she's not going to make it. She's not that big. She's not tough enough,' and it's not that I had to be the biggest one or the toughest one. You have to have grit. You just have to be persistent and just not give up."
Linda DeTorres sees many of the qualities that helped her push through adversity in her daughter as well. 
"[Sloane DeTorres] is a tough little cookie," Linda DeTorres said. "If you have something that you really want to do, if you set your mind to it, there's really nothing you can't do, and I tell her the same thing, and she does. Everything she says she's going to do, she does…I don't want to ever try to do something and then quit or give up because it was too hard"
Even with her demanding job, Linda DeTorres always makes it out to her daughter's many athletic events, including soccer and swim. Her efforts have not gone unnoticed by Sloane DeTorres. 
"She's so loving. That's her motivation for everything," Sloane DeTorres said. "She's such a hard worker; she carries our team, our family…she's like my best friend. She's always with me."
About the Writer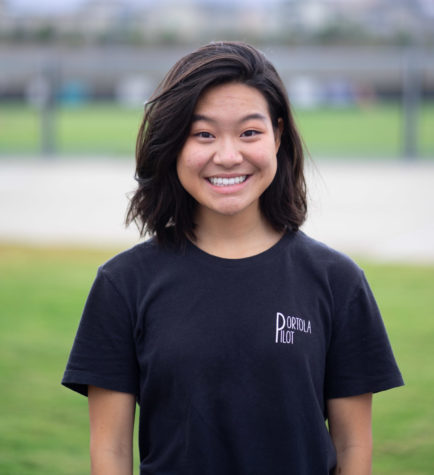 Priscilla Baek, Media Director
Priscilla Baek is Portola's Media Director. She has spent five years of her life in Yemen immersed in charitable organizations. With a passion for writing...