Ethan Hung 'Serves' as an Example to Student Athletes
Annie Qiao, Co Editor-in-Chief
June 4, 2018|72 Views
"Game, set, match!"
Both on and off the tennis court, freshman Ethan Hung's focus, drive and intrinsic motivation to succeed have landed him a spot as a valued member of the JV boys' tennis team.
Since fifth grade, Hung has dedicated hours of practice in order to improve and hone his skills. Outside of school, he practices anywhere from two to six days a week with a private coach.
Between warming up, conditioning, running drills and playing matches, Hung spends up to 25 hours a week playing the sport, bringing fierce determination and focus onto the court every time.
Hung participates in tournaments year-round when he is out of season, earning him nine awards from the second Annual Ramada Christmas Satellite Tournament, 25th Annual West Coast Winter Junior Satellite, Mission Viejo Summer Junior Satellite, 18th Annual Anaheim Tennis Center Junior Satellite Tournament Champion, Huntington Beach Summer Junior Satellite, MPTA Summer Junior Open Championships and iTennis Performance Center Thanksgiving Junior Open Tournament.
"He's really stepped up in terms of leading the tennis team in practices and in conditioning. He's always the first one to be on the field, always the first one to start stretching, start conditioning and start drills," head coach Natasha Schottland said. "That really, for me, shows his drive in terms of his desire to want to play tennis. He's very driven in what he does, and it shows on the court."
Hung's success on the court is not just limited to his dedication; speed, a powerful serve and a well-rounded skill set have all contributed to his victories.
Hung initially showed potential at tryouts, but losses against more experienced players in games took a toll on his confidence during matches.
Throughout the season, however, Hung has continuously improved in technique and confidence. His growing poise in matches, especially with a doubles partner, is only proof of his strong and solid playing.
"I guess passionate is what I would describe myself as," Hung said. "I spend several days a week practicing a few hours at a time, and I think that I push myself to become better at it because I want to and I enjoy it, not because someone pushes me to do it."
About the Contributors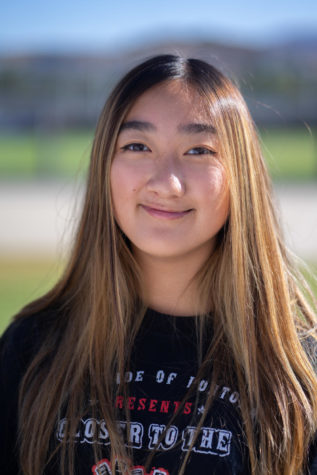 Annie Qiao, Arts & Entertainment Editor
Annie Qiao is your 2019-20 Arts & Entertainment Editor for her fourth year at the Pilot! As a passionate admirer of the arts, she hopes to bring a...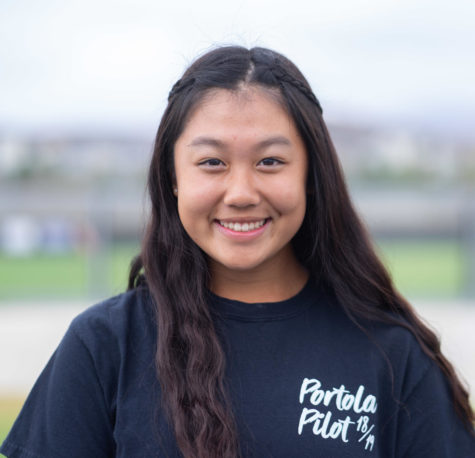 Helena Hu, Editor-in-Chief
Helena Hu is the Co-Editor-in-Chief of the Portola Pilot this year. As Centerspread Editor and Social Media Director for the past two years respectively,...