False Start for Spirit Week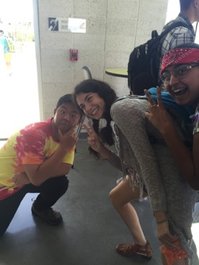 ASB decided to cancel the first three lunch events of Spirit Week in order to organize a large event on Thursday during lunch. The cancellation was announced Tuesday by ASB members.
A faulty projector led to a false start for karaoke, the first spirit event ASB planned for Monday. ASB turned its focus to Thursday's surprise event, where the winner of the activity would be awarded two free dance tickets.
"I was really excited for the event," intercultural liaison Nandini Goyal said. "I am a little disappointed [that the event was cancelled], but I feel that we had something alternative to make up for it…It will be like a small event growing to be a bigger one."
Despite the technical difficulties, ASB worked its way around the issue. Music from the 60s played over the speaker as several students began to dance.
"I feel like it was a really good learning experience. We wanted to go ten minutes early, but we discovered that you really need to go two days early, get everything prepared, then you should be good," vice president Jeffrey Chen said.
ASB decided to use the circumstance to its advantage by learning from the experience for future activities, including the event on Thursday.
"We are going through some bumps in the road, but we are still excited," ASB president Anthony Lu said. "It is good to see that students are hyped about this, and I want to get them more excited. We do experience these bumps, and we do get over them, and we still like to stay happy about it. It happens sometimes. It's just natural. That's okay, though, we still have a second option. We always have a Plan B."