Staff Editorial: It's Not Just One Bad Apple
***Content warning: This article discusses issues of racism.
"This is not who we are."
These words, penned in a Jan. 26 statement by Laguna Hills High principal Bill Hinds, were met with confusion by the Portola Pilot staff — because what are students if not reflections of the communities in which they develop?
In order to truly hold themselves accountable, Laguna Hills High must take not only disciplinary action against individuals, but also reformative action involving the whole student body and staff. And to prevent incidents like that of Jan. 21 from happening again, both schools and students must fundamentally alter the way they approach race and identity.
Perhaps the most important factor to recognize when examining the events of Jan. 21 is that the hostile behavior cannot be attributed to just one individual. Though the hateful comments directed toward basketball guard and senior Makai Brown by a single Laguna Hills High student have been widely circulated, insults and slurs from the entire student section targeted several members of the boys' varsity basketball team and Portola Pep Squad, as reported by multiple Portola High students who attended the game.
"The game for me, as I'm sure for a lot of the girls on the team, was really uncomfortable from start to finish," cheerleader and junior Amelia Luong said. "I was lucky to be on the opposite side from the student section, and we had [principal John] Pehrson standing with us the majority of the time, but I could still hear a lot of racist remarks coming from the other side of the gym because it was so loud."
"
The game for me, as I'm sure for a lot of the girls on the team, was really uncomfortable from start to finish."
— Amelia Luong
These remarks are not isolated. Students and parents from multiple schools in Irvine Unified and surrounding districts have reported players experiencing racism while competing against Laguna Hills High.
"[Two Laguna Hills High students] were so rude and calling out directly to our Asian players that were playing," Christine Hinker, mother of a University High boys' varsity volleyball player who competed at an away game in May 2021, said. "They're on the first or second row up with the players right there, chanting anti-Asian comments."
In August 2020, multiple former SVUSD students issued an open letter to the SVUSD Board of Education calling for the Board to address "the racism entrenched in SVUSD campuses." The statement contained a list of five demands for reform and was followed by 47 testimonies from members of the SVUSD community about racism they witnessed or experienced at an SVUSD school.
The behavior exhibited on Jan. 21 is symptomatic of a school culture that enables racism, disrespect and aggression. While not every member of Laguna Hills High subscribes to these beliefs or demonstrates these attitudes, the passivity and lack of intervention on part of the student section and administration during the game demonstrates that they are, at the very least, tolerated.
"I taught a lot of students that would report back to me that they were seeing this kind of behavior at school events and sports events, pep rallies," world language teacher and former Laguna Hills High teacher Caroline Heavican said. "But at the same time, I taught a lot of great kids there, and they would tell me that they were experiencing these things out in the world of Laguna Hills High School."
"
I taught a lot of students that would report back to me that they were seeing this kind of behavior at school events and sports events, pep rallies."
— Caroline Heavican
When it comes to issues of school culture, it is imperative that solutions remain community-focused. Restorative justice is a conflict resolution technique that accomplishes exactly this: it aims to redress harm to those who have been affected and allow offenders to take responsibility for their actions, instead of doling out consequences for breaking the rules.
When Rainier Harris, a former student of Regis High in Queens, New York, reported that his classmates were engaging in racist behavior in 2019, the school administration responded by scheduling multiple assemblies and classroom discussions and facilitating a conversation between Harris and his primary offender, who apologized to Harris after acknowledging what he did wrong.
"Restorative justice doesn't allow an institution to simply remove the bad apples," Harris said in an article for the New York Times. "It inspires solutions that achieve value and respect for everyone. It forces an institution to look at community-oriented solutions that make everybody uncomfortable, not just those who are involved. But it's the only way real change can be made."
"
Restorative justice doesn't allow an institution to simply remove the bad apples."
— Rainier Harris
In a letter issued on Jan. 25 by SVUSD superintendent Crystal Turner, Laguna Hills High was said to be taking wider action by advising bystander students to "redirect [racist] language and report it to school administration" and by having administration attend athletic practices "to discuss the seriousness of the incident with players and coaches."
While these measures are a good first step, they are ultimately remedial and not preventative solutions. People should not aim to be bystanders but anti-racist advocates, and administrators should be talking about more than just how serious the event was; conversations should focus on why students felt comfortable making such comments in the first place.
Curricula in every subject can also accommodate dialogues about race and the history of racism. Doing so prevents these topics from existing in a vacuum and helps students understand that their identities should not be separated from their education.
While staff and administrators should be the ones to formally facilitate these discussions, student leaders can also take the initiative to encourage anti-racist behavior within the student body. ASB staff liaison and junior Jett Fukuda volunteered to create a district-wide student council, in which representatives from all IUSD high school ASBs would tackle race-based issues and design guidelines for student sections at athletic games.
"We, as ASB, are the Associated Student Body, and what's most important is to make sure everyone feels safe and accepted on campus all the time," Fukuda said. "And things like this highlight that that's not always true, so what I want to do is make students' voices heard and be able to effect change outside of just our campus."
Discipline and punitive measures do not incite change; radical education and empathy do. By understanding how identity impacts education, and supporting students as they apply lessons from the classroom to the world around them, communities can better prepare their children to become informed and responsible adults.
Yes, this is who we are now — but we have the power to decide who we will become.

View Comments (1)
Your donation will support the student journalists of Portola High School. Your contribution will allow us to purchase equipment and cover our annual website hosting costs.
About the Photographer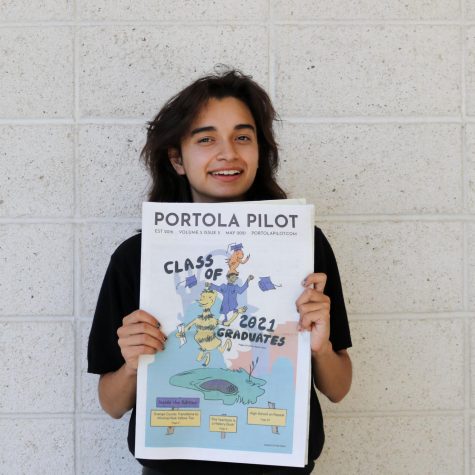 Nate Taylor, Front Page and Photo Editor
 Nate Taylor is the 2021-22 front page editor and photo editor. He is ready to improve his design skills and create memorable Portola Pilot front covers....