Four Freshmen Stand out in Spring Sports
As spring sports begin to leap into tournaments, scrimmages and league games, take a look at some freshmen who are dedicating hours of practice and bonding with their teammates after jumping straight into the varsity level.
Ashley Pham, Swim:
Q: What are your relationships like with the upperclassmen on the team?
"I met most of them through water polo season, and the rest I knew from club teams and elementary schools. For the people that I just met through swim season this year, they're all really fun and supportive teammates. It's nice because they can give me advice on how seasons were years before. I feel like the teammates all have a connection because we're all putting in hard work to benefit the entire team so it's nice. I'm looking forward to becoming better friends with my teammates and the team bonding activities like the hike and beach practice."
Q: What's it like being a freshman on the varsity team?
"It's fun and exciting, but there's also a lot of pressure, especially going against a lot of other fast upperclassmen on other teams during dual meets."
AJ Moore, Tennis:
Q: When did you start playing tennis, and why did you start in the first place? What was it like to play when you first started?
"I started playing competitively at eight years old, but I started playing with my dad when I was like four or five. It was really fun; I was playing other sports like baseball and basketball, which I also really enjoyed. The competitive aspect was and still is why I love sports."
Q: What do you specifically enjoy about the competitive aspect of tennis?
"Just the true feeling of competing and the possibility of winning is something I enjoy and the fact that my hard work could pay off."
Chloe Choi, Lacrosse:
Q: How would you describe your relationship with your teammates? Has the fact that you're a freshman changed anything?
"I feel really comfortable with my teammates because they were really welcoming. We just like to have fun with each other, and as every day goes by I feel closer to them. The fact that I'm a freshman and the majority of my team are sophomores and one junior doesn't really change anything."
Q: What has been your favorite memory or experience being on the team so far?
"We haven't had our first game yet, so I guess my favorite memory is when we do our scrimmages and also when our team just does random dances, which is fun to watch, or when we just talk together."
Kevin Lu, Golf:
Q: What's it like being a freshman on a varsity team?
"Being a freshman on varsity is a really amazing experience, mainly because I get to compete and surround myself with really high level athletes. I think being obviously on the younger end of the team, the older guys help me really grow, and I learn much more compared to if I was on a frosh soph or JV team. I'm also always motivated to continue getting better and play well because I want to make sure I can carry my own on the team, even if I'm a freshman."
Q: How has your season gone so far? What are you looking forward to?
"Our season hasn't started yet, but I'm definitely looking forward to the competition aspect of playing on a school golf team as well as working with my teammates to better myself as both a person and an athlete. Being my first year, it's definitely going to be an incredible learning experience, but I think competing at such a high level with the other varsity teams in our league will definitely sharpen and strengthen my game."
About the Contributor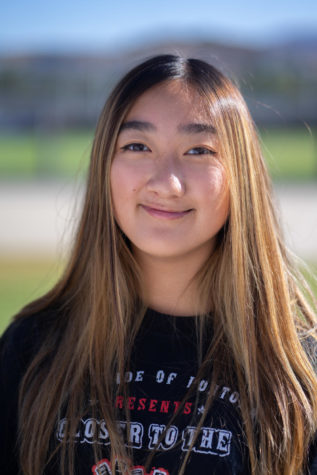 Annie Qiao, Arts & Entertainment Editor
Annie Qiao is your 2019-20 Arts & Entertainment Editor for her fourth year at the Pilot! As a passionate admirer of the arts, she hopes to bring a...