Girls' Basketball Shoots for the Win Against Northwood High
Once echoing with the shrill squeaks of rubber soles hitting the waxed floor, the gym is silent as the basketball is tossed by the referee and quickly stolen by center and senior Donia Maymoun. Girls' basketball (12-6) won 55-43 against Northwood High in ASB's game of the week on Jan. 10, maintaining its undefeated league record (2-1).
The Bulldogs started their first three quarters strong with a three-pointer by freshman Jadyn Zdanavage in the first quarter and a game record of three three-pointers by shooting guard and junior Allyson Tabayoyong, which elevated the score to 38-27. 
"I think we could have shut them down a little better," power forward, team captain and senior Madelyn Noh said. "But overall, we played a good defensive game and we were able to execute, especially Allyson with her three points that helped us win the game."
In order to prepare for the game, the team practiced a new play inspired by the JV boys' basketball team called Drop, which allows players to drive to the basket better against slower teams. In addition, the girls watched tapes of previous Northwood High games. 
"We had scouted the team before, and what we had said was that they were three-point shooters," Tabayoyong said. "I think in the future we need to do a better job closing out in the three point line."
The Bulldogs faced challenges in the fourth quarter with Northwood High's skilled outside shooting, especially by captain and senior Amanda Endres. Though the Timberwolves trimmed the lead, the Bulldog girls' hustle solidified their win, gaining momentum for the rest of the season.  
For the future, the girls would like to win league or make it to CIF, but their number one goal is to make good memories together, as this is the last year with all members of the inaugural team, according to Noh. 
"Every game we play is one less we get to play," coach Brian Barham said. "And we made a commitment to our seniors when the season started that we wanted to send them out on the right note, telling the best possible story they could. It's just another step to having a good send off for those kids."
About the Contributor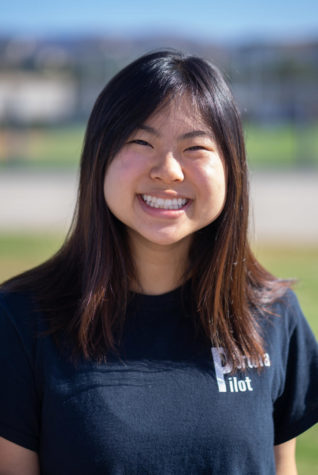 Tiffany Wu, News Editor
Tiffany Wu is your 2019-2020 Co-News Editor! She is most excited to insert ads on Print Days. In her spare time, she can be found browsing memes and eating...