Girls Cross Country Sprints To The Finish at State Championship
After placing third at the CIF Southern Section Preliminary meet at the Riverside Cross Country Course on Nov. 15, girls Cross Country placed seventh at the Finals meet on Nov. 23. The team tied with Granite Hills with 227 points, but sixth runner and senior Madison Lam edged out Granite Hills' sixth runner by 68 places to secure a spot on the startline at the state championship. This year is the first time the team has made both the regional and state meet.
On November 30, the team traveled to Woodward Park in Fresno, CA, to compete in the Division 3 state championship, placing 17th out of 24 teams. Notable performances included freshman Jadyn Zdanavage, who placed 7th at the CIF Southern Section meet with a time of 17:56 (3 mile course) and 12th at the state meet in 18:23 (5k). 
"We want to place so we can go to state. We are capable of more than we think we are," junior Kaeli Smith said. "As long as we pace together and just keep challenging and pushing each other, I think we will do well."
In this breakthrough year, the team was consistently ranked third in the southern section and sixth in state. Notable performances included first place in the sweepstakes race at the Mt. Sac Invitational on Oct. 25 as well as individual honors for Zdanavage, who became Portola High's first league cross country champion at the Pacific Coast League Finals on Nov. 7.
"We've been developing consistently – that's the key word. I knew with the freshmen coming in that we'd have a very competitive team this cross country season," assistant coach Rodney Anzai said. "They've got a bright future ahead of them, because we've got a majority of the team with at least two or three years left to run."
Though the girls dominated the field in past invitationals, they had only raced against smaller local Division 3 schools. They competed against 24 of the fastest schools in the region and needed to place in the top 12 teams or the top 15 individuals to advance to finals.
"We have to mentally prepare ourselves to go against teams that are a little more intense," junior Angela Kim said. "Going into CIF means we have to train harder, put in more time, and that's what's made us push forward."
About the Contributor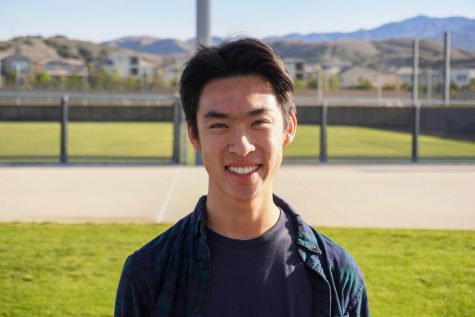 Jordan Lee, Visuals Director
Jordan Lee, commonly referred to as "The Flash," is your Visual Director. He has held the positions of front page and photo editors in previous years...