Girls' Wrestling Goes For Gold
Julia Kim, A&E Editor and Co-Business Manager
January 26, 2018|107 Views
Cheers from the crowd encourage the wrestlers as they step and slide across the floor, with only one athlete standing victorious at the end. While this sport can seem intimidating to many girls, for sophomores Jenny Guo and Chloe Ma, the first two girls on the wrestling team, it has been a challenge overcome.   
"I felt a little bit weird and awkward at first because we thought there were more girls on the team. But as we got to know everyone on the team better, we felt more united and more like a team," Guo said. "At first, I did not know a lot about wrestling… I knew wrestling is an aggressive and challenging sport, and I really wanted to try something new and challenge myself."
With practices every weekday after school from 2:00 p.m. to 5:00 p.m., with an exception for Fridays at 3:30 p.m., the team spends around half the time on the track running and conditioning, then spends the remaining half practicing wrestling techniques.
"They wrestle the boys inside [during practice] and during weight class," head coach George Mares said. "They're pretty good, but I think they're still a little nervous.… I've seen them progress through training, and I just can't wait till they do their first match. I don't treat training the girls any different than the boys. They should be treated the same. There should not be any special treatment, but I am careful with the girls, of course."
Guo and Ma seem to have been showing progress, participating in practice meets against girls from other schools. Their first match against El Toro High took place on Dec. 19, 2017. Although the number of girls currently on the wrestling team is small compared to other teams, the girls hope to grow in number for years to come.
"To my surprise, El Toro had fourteen girls on the wrestling team, which was a huge amount compared to our team," Guo said. "The girls there said they only had two girls in the beginning, but as the team grew larger and won more matches, wrestling had became a popular sport and more girls started to join the team. This motivated me and Chloe a lot."
About the Contributor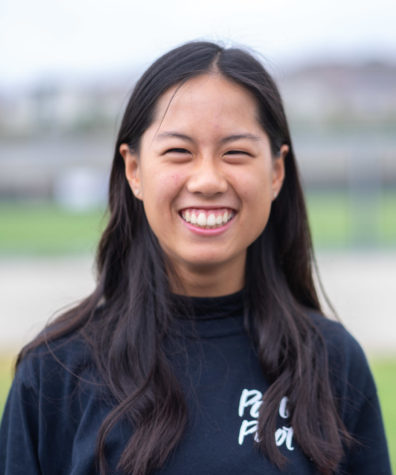 Julia Kim, Opinion Editor
Julia Kim is your 2019-20 Opinion Editor, continuing her fourth - and last - year on the Pilot! Outside of journalism, you can find her at the dance studio,...