Holocaust Survivor Returns to Tell his Story Amid Rising Antisemitism
Author and Holocaust survivor Sam Silberberg met via Zoom call with over 130 social studies students on April 19 to recount his story. During the hour-and-a-half talk, Silberberg described his time in Nazi-occupied Poland, his escape from Auschwitz concentration camp and life after World War II.
"Hearing these stories, I feel like it's so important because learning about other cultures' and races' history is what makes America," sophomore Stella Markarian said. "America is so diverse. It's important to know a bit about everybody's culture, and also it's interesting. It is sad, but it is interesting to hear about."
About 63% of Jewish Amercians have experienced or witnessed some form of antisemitism within the last five years, according to a survey published in 2021 by the Anti-Defamation League.
"I think the world is rough in general right now with the events of the Black Lives Matter movement, the anti-Asian hate that's going on out there, the xenophobia that is experienced towards the Muslim community," social studies teacher Virginia Nguyen said. "There's just so much connection between being able to speak up against hate and bringing someone like Mr. Silberberg to show us if you don't stand up against hate, it is very dangerous."
At the end of his talk, students had the opportunity to ask Silberberg questions about his experiences such as "How did you rebuild your life after the war?" and "How did your experience affect your faith?"
"I can't emphasize how lucky we are because Holocaust survivors are dying every day. They're getting older; he is 91 years old," Nguyen said. "This generation is going to be the last generation to have shared the Earth with Holocaust survivors. Then only a tiny portion of that community will have heard from a Holocaust survivor and had a Holocaust survivor answer their questions."
As Silberberg closed out his talk, he reflected on what he felt students should take away from his story.
"If there's one thing, I would say that all people, regardless of what they look like, have the God-given value to be treated equal and be equal under the law, and there's to be respect for diversity," Silberberg said in his presentation. "As a matter of fact, I am firmly convinced that diversity is a blessing and makes life worthwhile, more interesting."
Markarian said she made connections between her own cultural history and that of the Holocaust.
"I'm not Jewish, and I wasn't in the Holocaust," Markarian said. "However, I'm Armenian, and in 1915 there was an Armenian genocide. The situations aren't exactly similar, but because I have that history that my grandparents and parents tell me about all the time and how their friends and aunts and their parents escaped it, personally, this story really struck me."
Leave a Comment
Your donation will support the student journalists of Portola High School. Your contribution will allow us to purchase equipment and cover our annual website hosting costs.
About the Contributor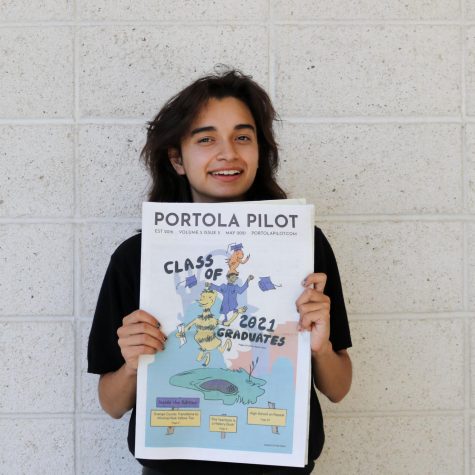 Nate Taylor, Front Page and Photo Editor
 Nate Taylor is the 2021-22 front page editor and photo editor. He is ready to improve his design skills and create memorable Portola Pilot front covers....