Junior Andrew Cherry Eggbeaters Up to Occasion in Quest for Self-Improvement
With the future of the 2020-21 athletics program containing few certainties, upholding unity among the school's many student athletes has proven to be essential. Throughout the challenges that the COVID-19 pandemic has brought, varsity athlete and junior Andrew Cherry has stood out as a talented mentor who brings others together in efforts to improve.
Having been a dominant force on the junior varsity boys' water polo team in 2019, Cherry enters the varsity level with a constant drive to further his own abilities. Though his performance in games is not always flawless, Cherry faces his setbacks by redoubling his dedication, according to head coach Kate Avery.
"He's always working to improve, and sometimes he gets frustrated if he makes a mistake, not because he's afraid of failure, but because he's so driven to succeed," Avery said. "Even though we're restricted in what we're able to do, he's found a way to push himself outside of our practice hours… To motivate yourself to get outside, work out, train to the level of what we're normally used to training at, that's really difficult to do, so [it's] seriously something that I admire."
Cherry's challenges through the course of the pandemic in particular are profound. Despite the fact that daily conditioning is ideal for excelling in the sport, closures and restrictions alike have made the reality of training less straightforward.
"[During the spring shutdown], I would socially distance [and] work out with my friends, and we would go on runs and lift weights. I thought that was a good way we could bond and keep things going, and as soon as pools opened up [in summer], I would go to the pool every morning, back at it," Cherry said. "I think that was a really important part in getting the team back together, because we all had to re-condition, and obviously, since pools were not open, that's not something we could really do at the time."
Cherry also thrives on the team by actively encouraging others to join him on his athletic journey. Whether through training with members of his team or instructing others in the sport, he ultimately compels those around him to strive for greater heights.
"In small ways, he's pushing other people to get faster, get stronger, get better. That's something that I noticed very early on and has really come through this year," Avery said. "I asked him to help warm up a [younger] goalie — this was two weeks ago — and he was all about it: he was there, he was really supportive, he wanted to give positive feedback… I actually got to see him in a different light, and that's something I really appreciated. He's grown a lot as a leader and as a person."
Cherry holds within himself a commitment to discipline and consistency, inside and outside of his devotion to his sport. With these values paramount for future growth, particularly in his planned pursuit of medicine alongside water polo beyond graduation, the athlete said he is eager to look at the big-picture fruits of his dedication.
"In water polo, you have morning practices, of course, and you have afternoon practices, and you have weights, and you have dry-land [exercises], and so that can rack up to anywhere from four to six hours a day," Cherry said. "I feel like if you're that consistent and you're that committed to one thing, then [that discipline] can carry over into your daily livelihood if you're trying to become the best at something else, and I think that's really important about the sport I play."
Leave a Comment
Your donation will support the student journalists of Portola High School. Your contribution will allow us to purchase equipment and cover our annual website hosting costs.
About the Contributor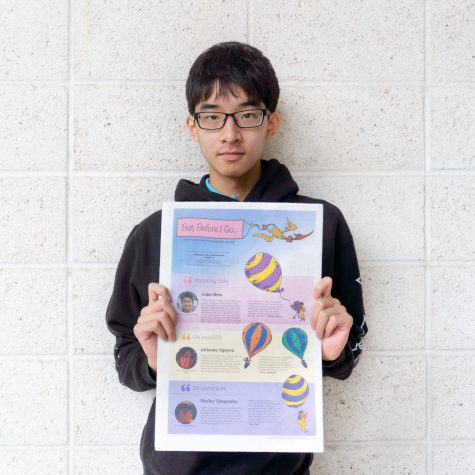 Justin Tang, Back Page Editor
Justin Tang is the Portola Pilot's Back Page Editor for the 2021-22 school year, his second and last on the team. Throughout the year, he'll make sure...