Karl Lagerfeld's Legacy Should not be Celebrated
"No one wants to see a curvy woman," former creative director of Chanel Karl Lagerfeld said to Spiegel in 2009.
The German designer began his fashion career in the 1950s working as a designer. Despite modernizing Chanel beyond the legacy of its founder Coco Chanel, Lagerfeld's career was also filled with harmful and insensitive views. Ultimately, the legacy of Lagerfeld should be remembered by the toxic perspective he perpetuated to a greater extent than his work. 
Since early in his career, Lagerfeld has blatantly made clear his distaste for people or models with measurements above a size 0, according to the New York Times. 
 According to Spiegel, Lagerfeld said in 2009, "These fat mommies sitting with their bags of potato chips in front of the television, saying that thin models are ugly." He continued in 2013 and said to Vox, "The hole in social security is also [due to] all the diseases caught by people who are too fat." 
Body image issues are already an especially serious matter within the fashion industry as fashion models are at greater risk of developing anorexia, according to Psychology Today. Further, a study by the National Library of Medicine found a direct link between seeing only thin-models in the media and developing an unhealthy body image, with 44% of adolescent girls believing they were overweight and 60% actively trying to lose weight despite being in the typical weight ranges. 
Nonetheless, as the theme of this year's Met Gala, the legacy of Karl Lagerfeld, has exhibited, the world of fashion does not care about the negative impact Lagerfeld's comments have on the body images of women in the fashion industry and the world. 
Those who defend Lagerfeld for his achievements in the fashion industry may justify his comments as being a product of his time. 
In 2013, Cara Delevigne, one of the models Lagerfeld most frequently worked with, responded to fans who criticized Lagerfeld's comments in a tweet that stated, "He was born in 1933! I am not saying I agree with some of the things he has said," according to BBC. 
However, Lagerfeld has continued to contribute to toxic beauty standards that criticize women for having a larger figure; therefore, his comments should not be tolerated in any sense. Instead of celebrating Lagerfeld's life, his words should serve as a reminder of the impossible standards women are held to. Additionally, designers who are promoting inclusivity should be recognized and given the opportunity to expand their influence. 
Ultimately, Lagerfeld's life was muddled with controversy and hate. It is time to move on and progress toward making the fashion industry more inclusive instead of bashing larger body types. 
Leave a Comment
Your donation will support the student journalists of Portola High School. Your contribution will allow us to purchase equipment and cover our annual website hosting costs.
About the Contributor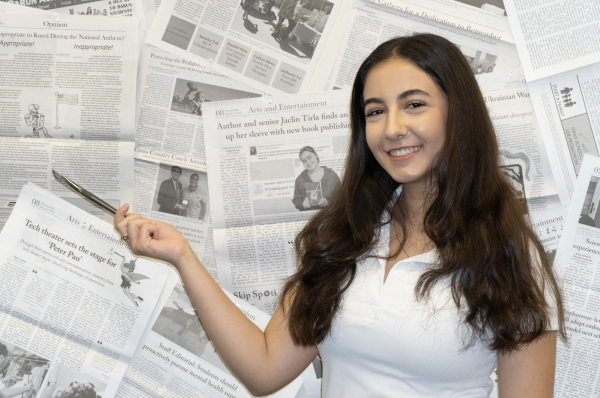 Shaina Taebi, Backpage Editor
Shaina Taebi is the Backpage Editor for her third year in the Portola Pilot. For her final year she is excited to spend class time drawing more editorial...