Katherine Hung's Characters Shine at the Pageant of the Masters Arts Festival
While the art studio on campus is filled with buckets of worn brushes and pungent paints, senior Katherine Hung needs only the elegant glide of her pen over her tablet screen to make her characters come to life on the screen. Over the summer, her brilliant colors and life-like drawings were on display at the renowned Pageant of the Masters Arts Festival in Laguna Beach, showcasing her as a top artist in Orange County.
The art show ran from July 5 to Aug. 31 and displayed her piece, "Bloom," alongside other selected works from top Orange County artists. Hung drew inspiration from the fictional concept of "Hanahaki disease," in which unrequited love manifests itself as suffocating flowers growing inside the lungs.
"The flowers blooming in his lungs caused by his love are hurting him, which I think is a very beautiful concept," Hung said. "I used clean colors to represent his purest form of love, and the fading represents his unreturned feelings."
Hung specializes in character portraits, and she utilizes all the skills she's learned in every piece to make her subjects as human as possible. For her, conveying emotion through her art is the top priority.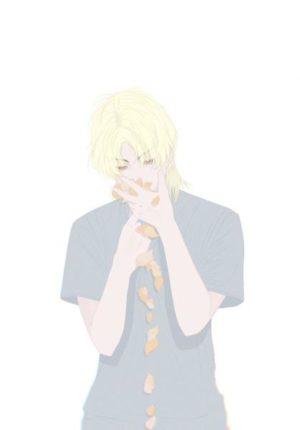 "Katherine is an ambitious artist who constantly pushes herself to experience different things in art," AP Art Studio student and senior Edward Huang said. "The best appeal of Katherine's art is the personality she brings into each work. [In "Bloom,"] her techniques combine light and silhouettes of even something like the character's hair to bring him alive."
While many advanced artists on campus began perfecting their skills at a young age, Hung only recently picked up the pen in the middle of her junior year. To make up for the lost time, she spends as much as six hours a day on the weekend working on her digital pieces.
"About two years ago I was inspired by an illustrator named Krenz Cushart," Hung said. "He told me not to be afraid to step out to do something I want to try, so he is also the reason why I picked up my pen in the first place."
She is currently working on her AP Studio Art portfolio centered around her chosen theme of "storytelling." After high school, she will work towards landing her dream job working on character designs at companies such as Blizzard or Entertainment Arts. Hung said she hopes to create great characters capable of conveying complex stories at just a glance.
"Storytelling is the most important aspect of my art because I speak through my pieces," Hung said. "My pieces are not just about my characters; they also represent my emotions when I created them. I hope people would want to look at my art and think about the meaning of the artist behind it."