Pitch Perfect: Nishad Francis
Sophomore Nishad Francis's fine-tuned skills as a talented vocalist and pianist were recognized as December's Artist of the Month by Portola's visual and performing arts department.
Choir teacher Adrian Rangel-Sanchez nominated Francis due to his ability to separate himself from the rest of his peers with his natural leadership, talent as a bass singer and his dedication to always work hard to get better at choir.
"[Nishad] is always willing to step up and lead his peers, but he never does so in a condescending way or in a way to make himself seem better, but more out of a genuine desire to make everyone better," Rangel-Sanchez said.
Francis is well-regarded by classmates and students alike as a person who continually puts in his best effort to help improve every single student in the class. He serves as a bass sectional leader in choir; however, he works with all his fellow students to help them out and hone their skills.
"He's a very hardworking student and is dedicated to anything he does," fellow choir student and sophomore Mihika Nerurkar said. "He's just always trying his hardest and helping others when they need help."
Besides being an exceptional member of the choir, Francis often plays piano accompaniments for songs that the choir performs, such as "Homeward Bound" during the fall concert. Francis said he prides himself not on his own playing or skill, but rather his ability to benefit the entire choir as a whole.
"Whether it is giving the piano accompaniment if we need someone, or just being there to help everyone else get the music, I just feel like I'm there to help people out, and I'm really happy [Rangel-Sanchez] noticed that," Francis said.
Francis has a strong passion for choir, piano and music. Every day outside of school, Francis strives to practice at least one hour of piano. Throughout the day, his classmates often hear him singing his songs or humming a tune in order for him to work on his proficiency.
"I think of art as this thing where you can express yourself and you can value its beauty. If you listen to the music that we sing, there's definitely a lot of beauty in it, and it definitely takes a lot of hard work and dedication," Francis said. "You can definitely express yourself because you're letting your emotions out and letting other people understand what the song means to you through the song."
About the Contributor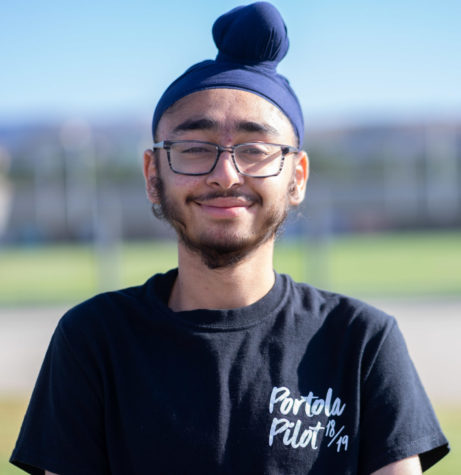 Simrat Singh, Editor-in-Chief
Simrat Singh is one of your 2019-2020 Co-Editors-In-Chief, for his third and final year in the Pilot! As Co-Editor-In-Chief, Simrat is ready to leave a...