"Prom?": Seniors Find the One for Their Last Dance
One of the most iconic symbols of high school is the practice of asking out a date to prom, or "promposal." As the prom on May 29 rapidly approaches, Instagram feeds have become saturated with creative promposals, featuring gifts ranging from flowers to pizza. 
These students spent hours preparing askings in giddy anticipation for the highly sought-after "yes." 
Senior Brandon Chung, one of the seniors who organized prom, asked senior Naomi Luper to be his date. He started organizing the event with his peers because of his belief that the class of 2021 deserved one final dance after over a year of COVID, according to Chung.
"I said, 'Are You Up for Prom?' with a big sign, and I printed out an "Up" house and taped balloons to it, so it was a reference to the movie," Chung said. "I also got flowers for Naomi and asked her."
"I said no," Luper said, laughing beside Chung in his car.
Luper did in fact say yes. 
"I was a little nervous beforehand, but we're friends, so I knew she would probably say yes," Chung said. "And I was also excited because I spent a lot of time working on it."
The couple plans to take pictures together and eat dinner before prom night.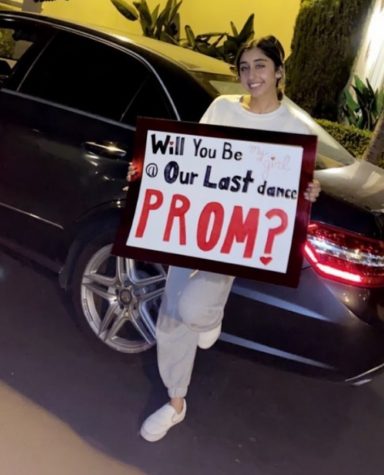 Seniors Sam Al Qaraghuli and Nika Karimi were meeting up to hang out casually, but as soon as Karimi left her car, Al Qaraghuli brought her to his car and told her to face away from him. 
"I decided to ask Nika to our last dance because she's the only girl at school I can see myself having the time of my life with," Al Qaraghuli said. 
When Karimi turned around, he was holding a poster that said "Will You Be My Girl @ Our Last Dance?"
"It's a little bit of a mess since there are a lot of other things going on for school, but we're planning on taking pictures at Pelican Hill, and then we'll go eat dinner with some friends and then head to prom," Karimi said. "I'm really looking forward to this last dance, and I know everyone else is, too."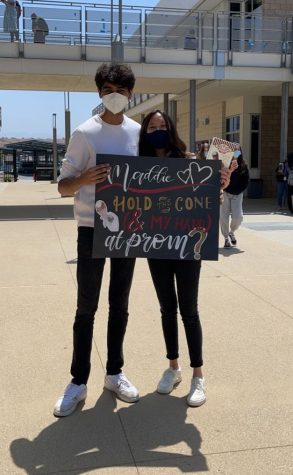 Senior Arav Seth "promposed" to senior Madison Vo with a poster inspired by Vo's favorite snack from Trader Joes: Hold the Cone ice cream. Arav, who is enrolled in Irvine Virtual Academy, surprised Vo in-person during her break with a poster and a box of Hold the Cones. While the two enjoyed their cones together, Vo laughed in delight as she examined the thoughtfully made poster.
"I thought the poster was super clever since we had texted before, and I recommended Hold the Cones to him," Vo said. "I was super surprised when I saw him at school, and when I walked closer to read the poster, I was really touched at the way he remembered little details from our conversation. Arav and I always used to joke around and laugh in Spanish sophomore year, so I can't wait for prom because I know we'll have a great time together."
Leave a Comment
Your donation will support the student journalists of Portola High School. Your contribution will allow us to purchase equipment and cover our annual website hosting costs.
About the Contributors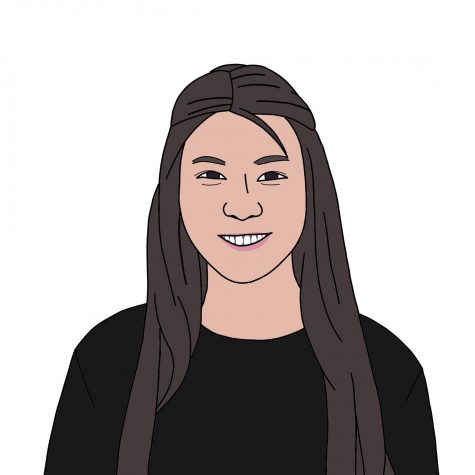 Kate Hayashi, Editor-in-Chief
Kate Hayashi is the co-editor-in-chief of the Portola Pilot. She draws all her writing inspiration from Michael Barbaro's "hmms" in "The Daily." Outside...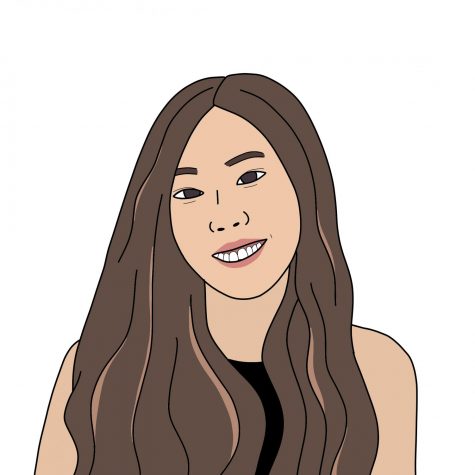 Ariana Wu, Social Media Team
Ariana Wu is a member of the Portola Pilot social media team and business team for her second year on the Portola Pilot. Aside from being on the pilot,...