Run and Raise Racquets for Multisport Athlete Alex Richmond
With three sports in her athletic career and two of those played on varsity teams, junior Alex Richmond's active life centers around practices and tournaments. 
Richmond began her sports career with tennis when she was just five-years-old. She started with her grandfather, who would teach Richmond to play for enjoyment. Richmond kept tennis as a hobby until she went up to high school.
Richmond then started her second sport, gymnastics, when she was seven-years-old for about five to six years. An active child, Richmond would do cartwheels constantly around the house. As her desire to learn to tumble grew, her mother decided to sign Richmond up for lessons. 
However, after training for long periods of time, she began to grow distant from her social life.
"I quit gymnastics because when training is 15 hours a week and four times a week, I had no social life," Richmond said. "I had my family within gymnastics, but I wanted to be able to experience a normal life of going out and having fun. Plus, it took a mental toll on me as well. I was only eight when I started with coaches screaming and making me do 100 pushes to gain muscles."
Richmond then took off on her next journey with track and field after being recommended to the sport by her physical education teacher and tennis coach, Scott Peak, in seventh grade.
"It was honestly pretty fun. I fell in love with my main events, which are 100, 200, high jump and long jump, and I just kept doing those events and training for years."
Richmond beat four school varsity track records in the 100m, 200m, long jump and high jump, which are also her main events, due to her boldness in practice and her motivation to achieve her goals. While many athletes may have struggled with balancing two sports on top of managing challenging academic courses and social life, Richmond does not find it much of a worry. But she said she found it more worrying that she lacked significant progress in each of her sports.
"I'm really aggressive because I feel like my trainings aren't paying off, and I feel like I'm not achieving," Richmond said. "I think I could still run a faster pace than myself, like 'Whoa, I do it all, and I'm still not progressing,' which is kind of how I was last year during tennis."
Upon her move to Portola High three months ago from Raleigh, North Carolina, Richmond was not able to practice and found her skills decreased. She struggled specifically with her backhands this year–a skill imperative to playing tennis.
"I just focus[ed] on my training, and now I have a good backhand," Richmond said. "So if you keep focusing, I know it's like time gets tough, but with practice and determination, you'll get through it."
Nonetheless, Richmond said she feels that through these two sports she continues to play, she feels extreme gratitude and attraction to her sports – as if she is in the zone.
"You just feel like you're in the zone," Richmond said. "That's what I feel when I'm doing my sports, like my main goal. I just focus on sports, like nothing else matters. I'm just vibing like I feel like I could do anything, especially when it's like I'm alive, and I feel like nothing else really matters because this is my time to shine."
Leave a Comment
Your donation will support the student journalists of Portola High School. Your contribution will allow us to purchase equipment and cover our annual website hosting costs.
About the Contributor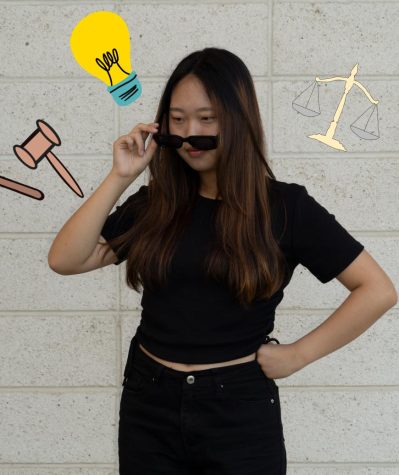 Kayleen Kim, Opinion Editor
Kayleen Kim is the Opinion Editor for her second year on the Portola Pilot. She's looking forward to working on editorials with the Editorial Board and...