Science Teacher's Fulfilling Summer Working with Marine Life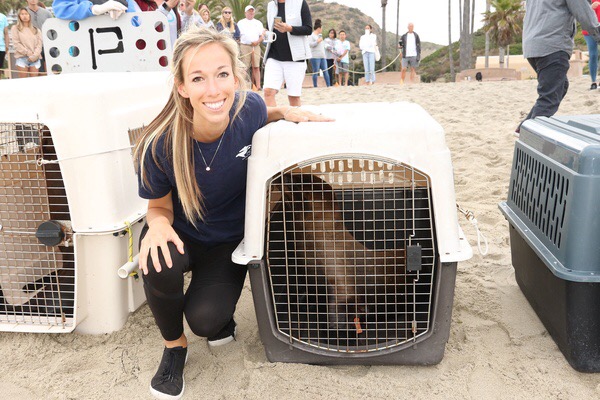 Many teachers use their summer to relax and take the vacations they have been anxiously waiting throughout the year, but science teacher Jeralyn Newton craved a return to her roots as a zoologist.
"I worked at the Pacific Marine Mammal Center [in Laguna Beach], which is a rehabilitation and release hospital, so they take in Pacific harbor seals, California sea lions and northern elephant seals that wash up injured, sick or malnourished," Newton said. 
Newton's desire to find a suitable summer job that intersected her various passions for education and zoology was fulfilled when she was selected to be a part of the animal care team and educational staff at the PMMC. 
"Of the three kids, she was the one at the youngest age that wanted a dog, wanted a cat, and we would always get her little stuffed animals," Newton's mother and literary and language arts teacher Jeanne Jelnick said. "She collected books on animals, she painted pictures of animals, and when she was really young, she would take all of her [stuffed] animals and line them up on the staircase." 
While Newton took delight in rehabilitating the injured marine life, she also found that one of the most rewarding aspects of the job was being able to apply her teaching background to her work by serving as an educational coordinator. 
Through this role, she assisted in designing the curriculum for summer programs held at the center. These weekly camps educate young minds on topics that are familiar to Newton like marine life, ocean acidification and the environment. 
"There were so many parallels," Newton said. "I was so excited when I got hired and heard that they needed help coming up with certain activities or labs that related to the things I do in my classroom."
Despite spending the majority of her job cultivating activities and lesson plans, Newton cherishes the moments when she was able to witness the release of the animals after undergoing the recovery process.
"All of us have a soft spot for certain animals, and so I loved going to these releases because it showed how I was a part of this animal's chance at a better life," Newton said.